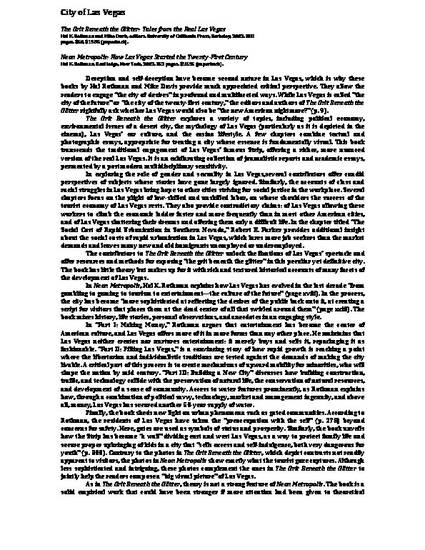 Article
Review of The Grit Beneath the Glitter, ed. Hal K. Rothman and Mike Davis, and Neon Metropolis, by Hal K. Rothman
Journal of the American Planning Association (2004)
Abstract
Deception and self-deception have become second nature in Las Vegas, which is why these books by Hal Rothman and Mike Davis provide much appreciated critical perspective. They allow the readers to engage "the city of desires" in profound and multifaceted ways. While Las Vegas is called "the city of the future" or "the city of the twenty-first century," the editors and authors of The Grit Beneath the Glitter rightfully ask whether Las Vegas would also be "the new American nightmare?" (p. 9).
Citation Information
Clara Irazabal. "Review of The Grit Beneath the Glitter, ed. Hal K. Rothman and Mike Davis, and Neon Metropolis, by Hal K. Rothman"
Journal of the American Planning Association
Vol. 70 (2004)
Available at: http://works.bepress.com/clara_irazabal/44/