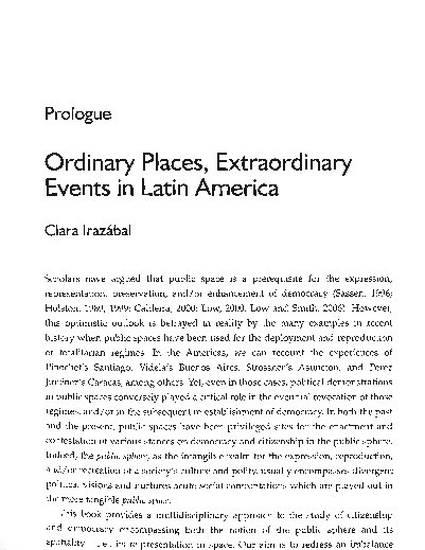 Contribution to Book
Prologue: Ordinary Places, Extraordinary Events
Ordinary Places/Extraordinary Events: Citizenship, Democracy and Public Space in Latin America (2008)
Abstract
Scholars have argued that public space is a prerequisite for the expression, representation, preservation, and/or enhancement of democracy (Sassen, 1996; Holston, 1989, 1999; Caldeira, 2000; Low, 2000; Low and Smith, 2006). However, this optimistic outlook is betrayed in reality by the many examples in recent history when public spaces have been used for the deployment and reproduction of totalitarian regimes. In the Americas, we can recount the experiences of Pinochet's Santiago, Videla's Buenos Aires, Strossner's Asuncion, and Pérez Jiménez's Caracas, among others. Yet, even in those cases, political demonstrations in public spaces conversely played a critical role in the eventual revocation of those regimes, and/or in the subsequent reestablishment of democracy. In both the past and the present, public spaces have been privileged sites for the enactment and contestation of various stances on democracy and citizenship in the public sphere. Indeed, the public sphere, as the intangible realm for the expression, reproduction, and/or recreation of a society's culture and polity, usually encompasses divergent political visions and nurtures acute social confrontations which are played out in the more tangible public space. This book provides a multidisciplinary approach to the study of citizenship and democracy encompassing both the notion of the public sphere and its spatiality – i.e., its re-presentation in space. Our aim is to redress an imbalance in the literature which has tended to focus on a socio-political approach at the expense of a literally more 'grounded' perspective. Thus, the case studies here help to expand and literally to ground the notion of the public sphere in the realm of physical public spaces. The uses and meanings given to and derived from public spaces in the processes of making life and making history (Flacks, 1988) have traditionally been centrepieces of both conceptual and empirical analyses of democracy and citizenship. Public space dynamics also provide ways in which to gauge, analyse, and document the value structures that lie at the core of particular societies and cultures. The selection of case studies from Latin America provides an unprecedented opportunity to look at cities with comparable cultural and political trajectories to investigate the use and meaning of particular urban spaces by ordinary people in extraordinary, history-making events. The collection encompasses multidisciplinary studies of nine Latin American major cities: Mexico City, Havana, Santo Domingo, Caracas, Bogotá, São Paulo, Lima, Santiago, and Buenos Aires.
Citation Information
Clara Irazabal. "Prologue: Ordinary Places, Extraordinary Events"
Ordinary Places/Extraordinary Events: Citizenship, Democracy and Public Space in Latin America
(2008)
Available at: http://works.bepress.com/clara_irazabal/39/