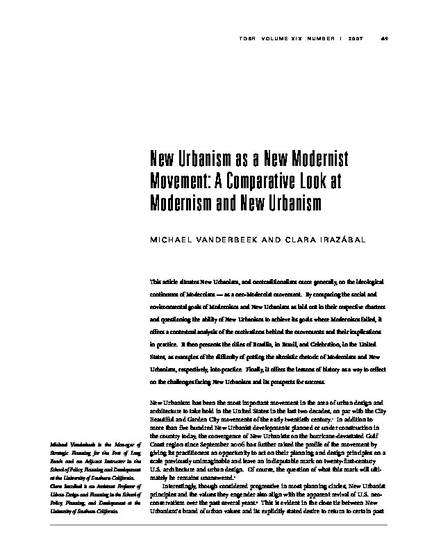 Article
New Urbanism as a New Modernist Movement: A Comparative Look at Modernism and New Urbanism
Traditional Dwellings and Settlements Review (2007)
Abstract
This article situates New Urbanism, and neotraditionalism more generally, on the ideological continuum of Modernism — as a neo-Modernist movement. By comparing the social and environmental goals of Modernism and New Urbanism as laid out in their respective charters and questioning the ability of New Urbanism to achieve its goals where Modernism failed, it offers a contextual analysis of the motivations behind the movements and their implications in practice. It then presents the cities of Brasilia, in Brazil, and Celebration, in the United States, as examples of the difficulty of putting the altruistic rhetoric of Modernism and New Urbanism, respectively, into practice. Finally, it offers the lessons of history as a way to reflect on the challenges facing New Urbanism and its prospects for success.
Citation Information
Clara Irazabal. "New Urbanism as a New Modernist Movement: A Comparative Look at Modernism and New Urbanism"
Traditional Dwellings and Settlements Review
Vol. 19 (2007)
Available at: http://works.bepress.com/clara_irazabal/26/