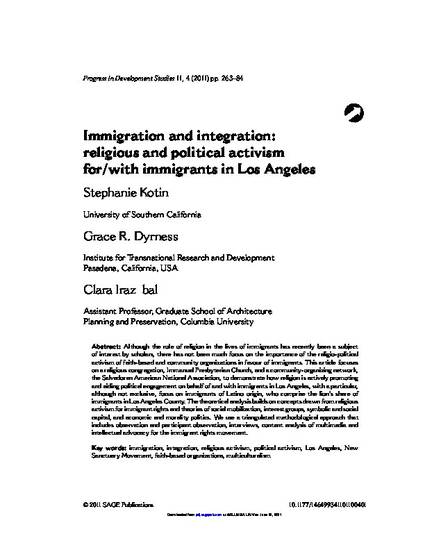 Article
Immigration and integration Religious and political activism for/with immigrants in Los Angeles
Progress in Development Studies (2011)
Abstract
Although the role of religion in the lives of immigrants has recently been a subject of interest by scholars, there has not been much focus on the importance of the religio-political activism of faith-based and community organizations in favour of immigrants. This article focuses on a religious congregation, Immanuel Presbyterian Church, and a community-organizing network, the Salvadoran American National Association, to demonstrate how religion is actively promoting and aiding political engagement on behalf of and with immigrants in Los Angeles, with a particular, although not exclusive, focus on immigrants of Latino origin, who comprise the lion's share of immigrants in Los Angeles County. The theoretical analysis builds on concepts drawn from religious activism for immigrant rights and theories of social mobilization, interest groups, symbolic and social capital, and economic and morality politics. We use a triangulated methodological approach that includes observation and participant observation, interviews, content analysis of multimedia and intellectual advocacy for the immigrant rights movement.
Citation Information
Clara Irazabal. "Immigration and integration Religious and political activism for/with immigrants in Los Angeles"
Progress in Development Studies
Vol. 11 (2011)
Available at: http://works.bepress.com/clara_irazabal/24/