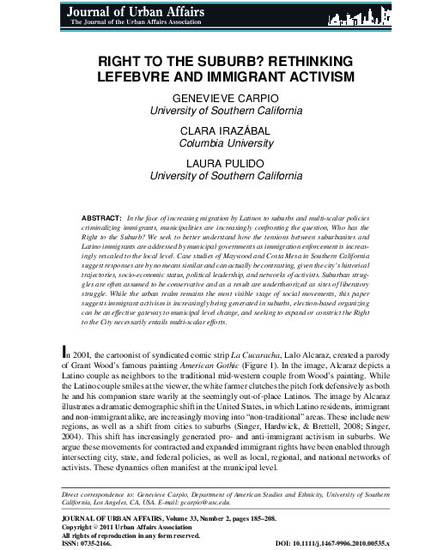 Article
Right to the Suburb? Rethinking Lefebvre and Immigrant Activism
JOURNAL OF URBAN AFFAIRS (2011)
Abstract
In the face of increasing migration by Latinos to suburbs and multi-scalar policies criminalizing immigrants, municipalities are increasingly confronting the question, Who has the Right to the Suburb? We seek to better understand how the tensions between suburbanites and Latino immigrants are addressed by municipal governments as immigration enforcement is increasingly rescaled to the local level. Case studies of Maywood and Costa Mesa in Southern California suggest responses are by no means similar and can actually be contrasting, given the city's historical trajectories, socio-economic status, political leadership, and networks of activists. Suburban struggles are often assumed to be conservative and as a result are undertheorized as sites of liberatory struggle. While the urban realm remains the most visible stage of social movements, this paper suggests immigrant activism is increasingly being generated in suburbs, election-based organizing can be an effective gateway to municipal level change, and seeking to expand or constrict the Right to the City necessarily entails multi-scalar efforts.
Citation Information
Clara Irazabal, Genevieve Carpio and Laura Pulido. "Right to the Suburb? Rethinking Lefebvre and Immigrant Activism"
JOURNAL OF URBAN AFFAIRS
Vol. 33 Iss. 2 (2011)
Available at: http://works.bepress.com/clara_irazabal/2/