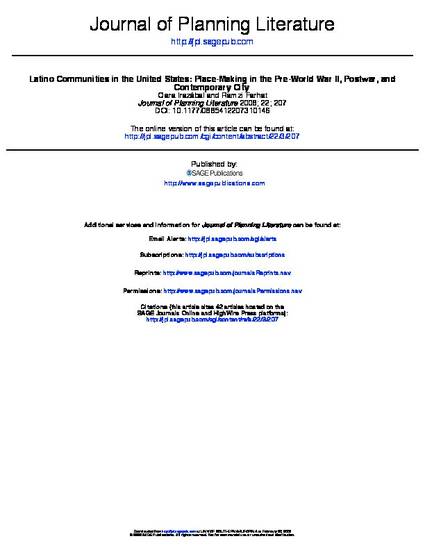 Article
Latino Communities in the United States: Place-Making in the Pre-World War II, Post-World War, and Contemporary City
Journal of Planning Literature (2008)
Abstract
Scholarship on Latino communities in the United States has yet to catch up with the rapid growth of this ethnic population in the country. Understanding the Latino urban experience and developing plans to better respond to both the needs of Latino communities and their integration within society is not only relevant, but also urgently necessary. Using the city of Los Angeles as a main lens, in addition to a general look at the urban Southwest, we contribute to the scholarship on the subject with a review of literature on Latino communities. We structure the review as an assessment of the various challenges and opportunities for urban Latinos in the pre-war, postwar, and contemporary city. Focusing on space, culture, economy, and governance, we chart the various roles both the private and public sectors play in meeting these challenges. Our reading of the literature shows that particular government actions in the economic and governance domains in the past had positive impacts on Latino integration, and we call for a similar effort today in addressing contemporary challenges. We conclude by suggesting that future planning scholarship on Latino communities engage the wider urban studies literature, focus on emerging forms of urbanization, and call on planners to sustain increased academic and practical interest in the topic.
Citation Information
Clara Irazabal and Ramzi Farhat. "Latino Communities in the United States: Place-Making in the Pre-World War II, Post-World War, and Contemporary City"
Journal of Planning Literature
Vol. 22 Iss. 3 (2008)
Available at: http://works.bepress.com/clara_irazabal/12/