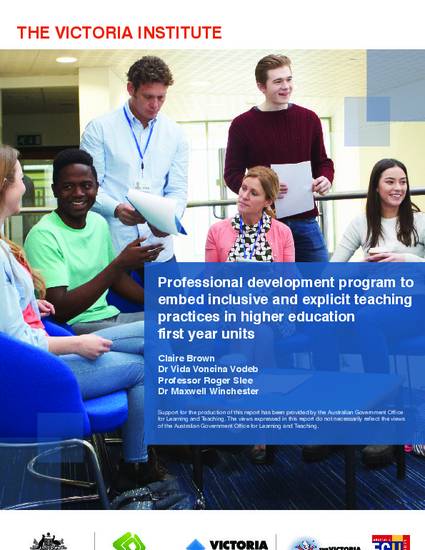 Other
Professional development program to embed inclusive and explicit teaching practices in higher education first year units.pdf
(2016)
Abstract
Professional development program to embed inclusive and explicit teaching practices in higher education first year units
The Victoria Institute, Victoria University and Edith Cowan University
Final report, 2016
Support for the production of this report has been provided by the Australian Government Office for Learning and Teaching. The views expressed in this report do not necessarily reflect the views of the Australian Government Office for Learning and Teaching.
The project
The project was designed to address the professional teaching experience and learning needs of higher education educators, in light of the fact that the majority of academics in Australian universities, whether employed on a sessional basis or on-going, have not engaged in formal teacher training or regular professional learning to improve their teaching skills. A customised version of an established American higher education professional learning program – Advancement via Individual Determination (AVID) for Higher Education was trialled to explore whether it could be adapted for Australia to stimulate more engaging teaching, particularly in first year foundation units.
Project outputs
·       No single professional learning activity can provide a short cut to the years required to master the complex art of becoming and remaining an effective, accomplished teacher.
·       Programs need to be engaging and model effective teaching practices, be collaborative, scaffolded, practical, sustained, supported and ongoing; one-off sessions do not work.
·       Paying sessional staff to attend professional learning programs appears to provide a return on investment that improves the quality and engagement in higher education teaching, but payment alone is not sufficient to overcome institutional factors that restrict which staff are able to attend and invest in professional learning opportunities.
·       Video exemplars of effective higher education teaching should include clear standards and encourage supportive peer observation to raise the quality of teaching.
Project achievements
The AVID collaborative, inquiry-based, immersion model of professional learning was very positively received. It stimulated more engaged teaching by providing regular professional learning combining both generic skills and discipline-specific material. Findings from this project identified the need for universities to address both teaching and institutional factors to improve the quality of teaching. These are detailed in the project report.
Keywords
professional learning,
higher education,
sessional teaching
Publication Date
Spring November, 2016
Citation Information
Claire Brown, Vida Voncina Vodeb, Roger Slee and Maxwell Winchester. "Professional Development Program to Embed Inclusive & Explicit Teaching Practices in Higher Ed First Year Units" (2016)