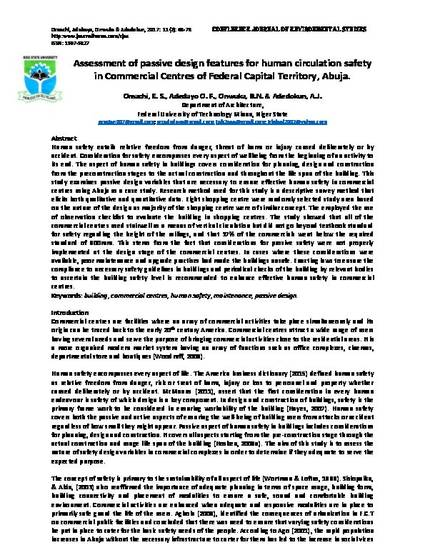 Article
Assessment of passive design features for human circulation safety in Commercial Centres of Federal Capital Territory, Abuja
Confluence Journal of Environmental Studies (2017)
Abstract
Human safety entails relative freedom from danger, threat of harm or injury caused deliberately or by accident. Consideration for safety encompasses every aspect of wellbeing from the beginning of an activity to its end. The aspect of human safety in buildings covers consideration for planning, design and construction from the preconstruction stages to the actual construction and throughout the life span of the building. This study examines passive design variables that are necessary to ensure effective human safety in commercial centres using Abuja as a case study. Research method used for this study is a descriptive survey method that elicits both qualitative and quantitative data. Eight shopping centre were randomly selected study area based on the nature of the design as majority of the shopping centre were of similar concept. The employed the use of observation checklist to evaluate the building in shopping centres
.
The study showed that all of the commercial centres used stairwell as a means of vertical circulation but did not go beyond textbook standard for safety regarding the height of the railings, and that 37% of the commercials went below the required standard of 900mm. This stems from the fact that considerations for passive safety were not properly implemented at the design stage of the commercial centres. In cases where these considerations were available, poor maintenance and upgrade practises had made the buildings unsafe. Enacting laws to ensure the compliance to necessary safety guidelines in buildings and periodical checks of the building by relevant bodies to ascertain the building safety level is recommended to enhance effective human safety in commercial centres.
Keywords
building,
commercial centres,
human safety,
maintenance,
passive design
Publication Date
Summer September 13, 2017
Citation Information
E S Omachi, O F Adebayo, B N Onwuka and A J Adedokun. "Assessment of passive design features for human circulation safety in Commercial Centres of Federal Capital Territory, Abuja"
Confluence Journal of Environmental Studies
Vol. 11 Iss. 2 (2017) p. 68 - 78 ISSN: 1597-5827
Available at: http://works.bepress.com/cjes_kogistateuniversity/60/
Creative Commons license
This work is licensed under a Creative Commons CC_BY-SA International License.