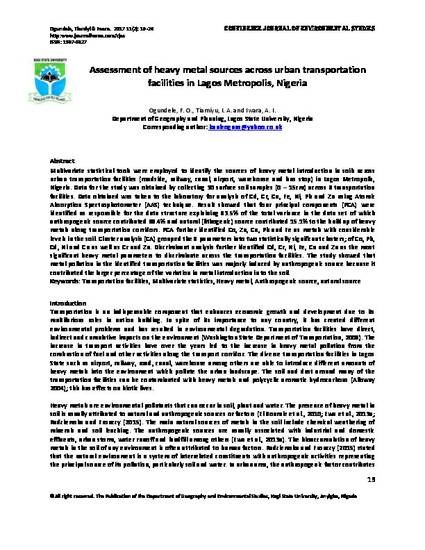 Article
Assessment of heavy metal sources across urban transportation facilities in Lagos Metropolis, Nigeria
Confluence Journal of Environmental Studies (2017)
Abstract
Multivariate statistical tools were employed to identify the sources of heavy metal introduction in soils across urban transportation facilities (roadside, railway, canal, airport, warehouse and bus stop) in Lagos Metropolis, Nigeria. Data for the study was obtained by collecting 30 surface soil samples (0 – 15cm) across 6 transportation facilities. Data obtained was taken to the laboratory for analysis of Cd, Cr, Cu, Fe, Ni, Pb and Zn using Atomic Absorption Spectrophotometer (AAS) technique. Result showed that four principal components (PCA) were identified as responsible for the data structure explaining 83.5% of the total variance in the data set of which anthropogenic source contributed 68.4% and natural (lithogenic) source contributed 15.1% to the buildup of heavy metals along transportation corridors. PCA further identified Co, Zn, Cu, Pb and Fe as metals with considerable levels in the soil. Cluster analysis (CA) grouped the 8 parameters into two statistically significant clusters; of Co, Pb, Cd, Ni and Cu as well as Cr and Zn. Discriminant analysis further identified Cd, Cr, Ni, Fe, Cu and Zn as the most significant heavy metal parameters to discriminate across the transportation facilities. The study showed that metal pollution in the identified transportation facilities was majorly induced by anthropogenic source because it contributed the larger percentage of the variation in metal introduction in to the soil.
Keywords
Transportation facilities,
Multivariate statistics,
Heavy metal,
Anthropogenic source,
natural source
Publication Date
Summer July 14, 2017
Citation Information
Olakunle F Ogundele, I A Tiamiyu and Anthony I Iwara. "Assessment of heavy metal sources across urban transportation facilities in Lagos Metropolis, Nigeria"
Confluence Journal of Environmental Studies
Vol. 11 Iss. 2 (2017) p. 19 - 26 ISSN: 1597-5827
Available at: http://works.bepress.com/cjes_kogistateuniversity/55/