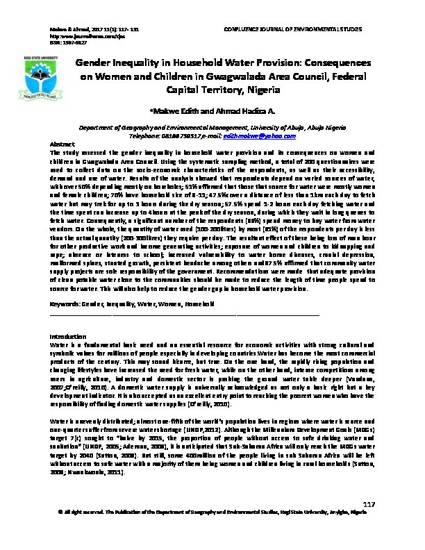 Article
Gender Inequality in Household Water Provision: Consequences on Women and Children in Gwagwalada Area Council, Federal Capital Territory, Nigeria
Confluence Journal of Environmental Studies (2017)
Abstract
The study assessed the gender inequality in household water provision and its consequences on women and children in Gwagwalada Area Council. Using the systematic sampling method, a total of 200 questionnaires were used to collect data on the socio-economic characteristics of the respondents, as well as their accessibility, demand and use of water. Results of the analysis showed that respondents depend on varied sources of water, with over 50% depending mostly on boreholes; 51% affirmed that those that source for water were mostly women and female children; 70% have household size of 8-11; 47.5%cover a distance of less than 1km each day to fetch water but may trek for up to 3 hours during the dry season; 57.5% spend 1-2 hours each day fetching water and the time spent can increase up to 4hours at the peak of the dry season, during which they wait in long queues to fetch water. Consequently, a significant number of the respondents (66%) spend money to buy water from water vendors. On the whole, the quantity of water used (100-200litres) by most (61%) of the respondents per day is less than the actual quantity (200-300litres) they require per day. The resultant effect of these being loss of man hour for other productive work and income generating activities; exposure of women and children to kidnapping and rape; absence or lateness to school; increased vulnerability to water borne diseases, cranial depression, malformed spines, stunted growth, persistent headache among others and87.5% affirmed that community water supply projects are sole responsibility of the government. Recommendations were made  that adequate provision of clean potable water close to the communities should be made to reduce the length of time people spend to source for water. This will also help to reduce the gender gap in household water provision.
Keywords
Gender,
Inequality,
Water,
Women,
Household
Publication Date
Spring May 11, 2017
Citation Information
Edith Makwe and Hadiza A Ahmad. "Gender Inequality in Household Water Provision: Consequences on Women and Children in Gwagwalada Area Council, Federal Capital Territory, Nigeria"
Confluence Journal of Environmental Studies
Vol. 11 Iss. 1 (2017) p. 117 - 131 ISSN: 1597-5827
Available at: http://works.bepress.com/cjes_kogistateuniversity/52/