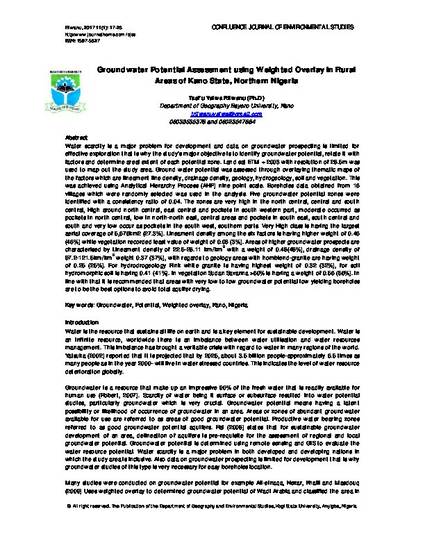 Article
Groundwater Potential Assessment using Weighted Overlay in Rural Areas of Kano State, Northern Nigeria
Confluence Journal of Environmental Studies (2017)
Abstract
Water scarcity is a major problem for development and data on groundwater prospecting is limited for effective exploration that is why the study's major objective is
to identify groundwater potential, relate it with factors and determine areal extent of each potential zone.
Land sat ETM + 2003 with resolution of 28.5m was used to map out the study area. Ground water potential was assessed through overlaying thematic maps of the factors which are lineament line density, drainage density, geology, hydrogeology, soil and vegetation. This was achieved using Analytical Hierarchy Process (AHP) nine point scale. Boreholes data obtained from 16 villages which were randomly selected was used in the analysis. Five groundwater potential zones were identified with a consistency ratio of 0.04. The zones are very high in the north central, central and south central, High around north central, east central and pockets in south western part, moderate occurred as pockets in north central, low in north-north east, central areas and pockets in south east, south central and south and very low occur as pockets in the south west, southern parts. Very High class is having the largest aerial coverage of 5,676km2 (27.3%). Lineament density among the six factors is having higher weight of 0.46 (46%) while vegetation recorded least value of weight of 0.03 (3%). Areas of higher groundwater prospects are characterised by Lineament density of 22.5-28.11 km/km2 with a weight of 0.48(48%), drainage density of 97.2-121.5km/km2 weight 0.37 (37%), with regards to geology areas with homblend-granite are having weight of 0.25 (25%). For hydrodrogeology Pink white granite is having highest weight of 0.32 (32%), for soil hydromorphic soil is having 0.41 (41%). In vegetation Sudan Savanna >60% is having a weight of 0.56 (56%). In line with that it is recommended that areas with very low to low groundwater potential low yielding boreholes are to be the best options to avoid total aquifer drying.
Keywords
Groundwater,
Potential,
Weighted overlay,
Kano,
Nigeria
Publication Date
Winter March 19, 2017
Citation Information
Tasiu Yalwa Rilwanu. "Groundwater Potential Assessment using Weighted Overlay in Rural Areas of Kano State, Northern Nigeria"
Confluence Journal of Environmental Studies
Vol. 11 Iss. 1 (2017) p. 17 - 28 ISSN: 1597-5827
Available at: http://works.bepress.com/cjes_kogistateuniversity/43/