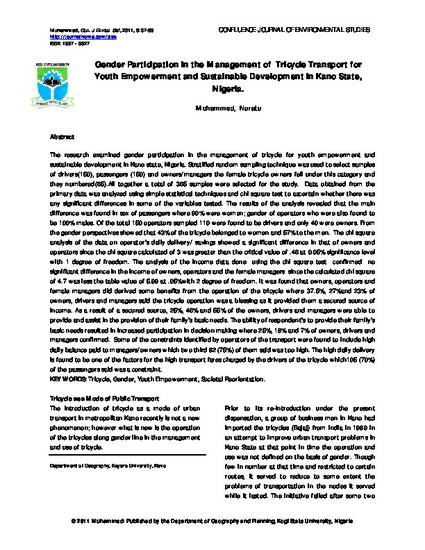 Article
Gender Participation in the Management of Tricycle Transport for Youth Empowerment and Sustainable Development in Kano State, Nigeria
Confluence Journal of Environmental Studies (2011)
Abstract
The research examined gender participation in the management of tricycle for youth empowerment and sustainable development in Kano state, Nigeria. Stratified random sampling technique was used to select samples of drivers(150), passengers (150) and owners/managers the female tricycle owners fell under this category and they numbered(65).All together a total of 365 samples were selected for the study. Data obtained from the primary data was analyzed using simple statistical techniques and chi square test to ascertain whether there was any significant differences in some of the variables tested. The results of the analysis revealed that the main difference was found in sex of passengers where 90% were women; gender of operators who were also found to be 100% males. Of the total 150 operators sampled 110 were found to be drivers and only 40 were owners. From the gender perspectives showed that 43% of the tricycle belonged to women and 57% to the men. The chi square analysis of the data on operator's daily delivery/ savings showed a significant difference in that of owners and operators since the chi square calculated of 3 was greater than the critical value of .46 at 0.05% significance level with 1 degree of freedom. The analysis of the income data done using the chi square test confirmed no significant difference in the income of owners, operators and the female managers since the calculated chi square of 4.7 was less the table value of 5.99 at .05%with 2 degree of freedom. It was found that owners, operators and female managers did derived some benefits from the operation of the tricycle where 37.5%, 27%and 23% of owners, drivers and managers said the tricycle operation was a blessing as it provided them a secured source of income. As a result of a secured source, 25%, 46% and 55% of the owners, drivers and managers were able to provide and assist in the provision of their family's basic needs. The ability of respondent's to provide their family's basic needs resulted in increased participation in decision making where 25%, 18% and 7% of owners, drivers and managers confirmed. Some of the constraints identified by operators of the transport were found to include high daily balance paid to managers/owners which two third 82 (75%) of them said was too high. The high daily delivery is found to be one of the factors for the high transport fares charged by the drivers of the tricycle which105 (70%) of the passengers said was a constraint.
Keywords
Tricycle,
Gender,
Youth Empowerment,
Societal Reorientation
Publication Date
June 9, 2011
Citation Information
Nuratu Muhammed. "Gender Participation in the Management of Tricycle Transport for Youth Empowerment and Sustainable Development in Kano State, Nigeria"
Confluence Journal of Environmental Studies
Vol. 6 (2011)
Available at: http://works.bepress.com/cjes_kogistateuniversity/4/