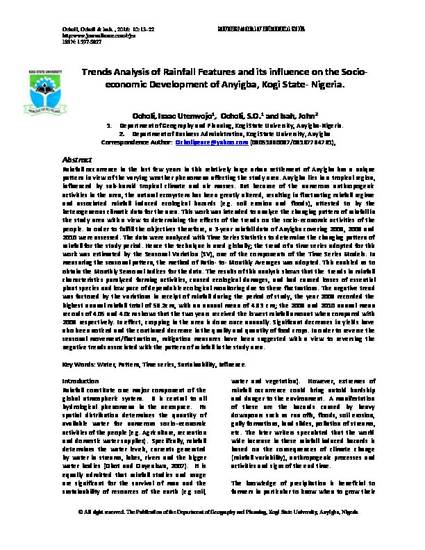 Article
Trends Analysis of Rainfall Features and its influence on the Socio-economic Development of Anyigba, Kogi State- Nigeria
Confluence Journal of Environmental Studies (2016)
Abstract
Rainfall occurrence in the last few years in this relatively large urban settlement of Anyigba has a unique pattern in view of the varying weather phenomena affecting the study area. Anyigba lies in a tropical region, influenced by sub-humid tropical climate and air masses. But because of the numerous anthropogenic activities in the area, the natural ecosystem has been greatly altered, resulting in fluctuating rainfall regime and associated rainfall induced ecological hazards (e.g. soil erosion and floods), attested to by the heterogeneous climatic data for the area. This work was intended to analyze the changing pattern of rainfall in the study area with a view to determining the effects of the trends on the socio-economic activities of the people. In order to fulfill the objectives therefore, a 3-year rainfall data of Anyigba covering 2008, 2009 and 2010 were assessed. The data were analyzed with Time Series Statistics to determine the changing pattern of rainfall for the study period. Hence the technique is used globally; the trend of a time series adopted for this work was estimated by the Seasonal Variation (SV), one of the components of the Time Series Models. In measuring the seasonal pattern, the method of Ratio- to- Monthly Averages was adopted. This enabled us to obtain the Monthly Seasonal Indices for the data. The results of this analysis shows that the  trends in rainfall characteristics paralyzed farming activities, caused ecological damages, and had caused losses of essential plant species and low pace of dependable ecological monitoring due to these fluctuations. The negative trend was factored by the variations in receipt of rainfall during the period of study, the year 2008 recorded the highest annual rainfall total of 59.2cm, with an annual mean of 4.93 cm; the 2009 and 2010 annual mean records of 4.05 and 4.0cm shows that the two years received the lowest rainfall amount when compared with 2008 respectively. In effect, cropping in the area is done once annually. Significant decreases in yields have also been noticed and the continued decrease in the quality and quantity of food crops. In order to reverse the seasonal movement/fluctuations, mitigation measures have been suggested with a view to reversing the negative trends associated with the pattern of rainfall in the study area.
Keywords
Water,
Pattern,
Time series,
Sustainability,
Influence.
Publication Date
Winter January 7, 2016
Citation Information
Isaac U Ocholi, Stephen O Ocholi and John Isah. "Trends Analysis of Rainfall Features and its influence on the Socio-economic Development of Anyigba, Kogi State- Nigeria"
Confluence Journal of Environmental Studies
Vol. 10 (2016) p. 13 - 22 ISSN: 1597-5827
Available at: http://works.bepress.com/cjes_kogistateuniversity/34/