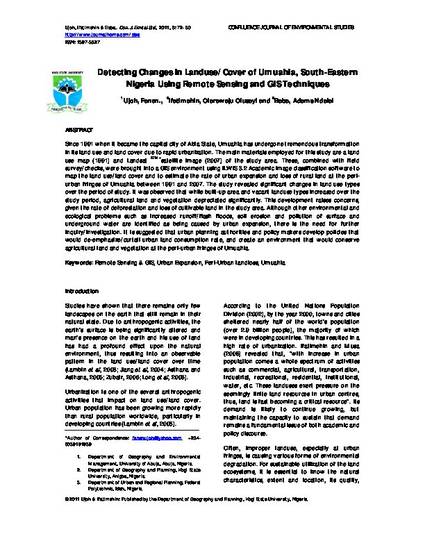 Article
Detecting Changes in Landuse/Cover of Umuahia, South-Eastern Nigeria Using Remote Sensing and GIS Techniques
Confluence Journal of Environmental Studies (2011)
Abstract
Since 1991 when it became the capital city of Abia State, Umuahia has undergone tremendous transformation in its land use and land cover due to rapid urbanization. The main materials employed for this study are a land use map (1991) and Landsat ETM+satellite image (2007) of the study area. These, combined with field survey/checks, were brought into a GIS environment using ILWIS 3.2 Academic image classification software to map the land use/land cover and to estimate the rate of urban expansion and loss of rural land at the peri-urban fringes of Umuahia between 1991 and 2007. The study revealed significant changes in land use types over the period of study. It was observed that while built-up area and vacant landuse types increased over the study period, agricultural land and vegetation depreciated significantly. This development raises concerns, given the rate of deforestation and loss of cultivable land in the study area. Although other environmental and ecological problems such as increased runoff/flash floods, soil erosion and pollution of surface and underground water are identified as being caused by urban expansion, there is the need for further inquiry/investigation. It is suggested that urban planning authorities and policy makers develop policies that would de-emphasize/curtail urban land consumption rate, and create an environment that would conserve agricultural land and vegetation at the peri-urban fringes of Umuahia.
Keywords
Remote Sensing & GIS,
Urban Expnasion,
Peri-urban Landloss,
Umuahia
Publication Date
July 1, 2011
Citation Information
Fanan Ujoh, Olarewaju Oluseyi Ifatimehin and Adams Ndalai Baba. "Detecting Changes in Landuse/Cover of Umuahia, South-Eastern Nigeria Using Remote Sensing and GIS Techniques"
Confluence Journal of Environmental Studies
Vol. 6 (2011)
Available at: http://works.bepress.com/cjes_kogistateuniversity/3/