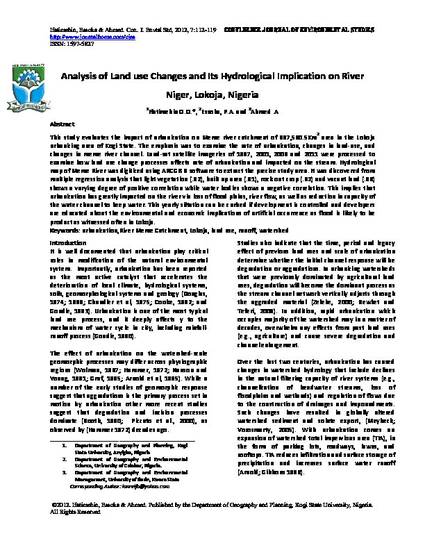 Article
Analysis of Land use changes and its hydrological implication on River Niger, Lokoja, Nigeria
Confluence Journal of Environmental Studies (2012)
Abstract
This study evaluates the impact of urbanization on Meme river catchment of 667,560.5Km2 area in the Lokoja urbanizing area of Kogi State. The emphasis was to examine the rate of urbanization, changes in land-use, and changes in meme river channel. Land-sat satellite imageries of 1987, 2001, 2006 and 2011 were processed to examine how land use change processes affects rate of urbanization and impacted on the stream. Hydrological map of Meme River was digitized using ARCGIS 9 software to extract the precise study area. It was discovered from multiple regression analysis that light vegetation (.92), built up area (.81), rock out crop (.62) and vacant land (.86) shows a varying degree of positive correlation while water bodies shows a negative correlation. This implies that urbanization has greatly impacted on the river via loss of flood plains, river flow, as well as reduction in capacity of the water channel to keep water. This yearly siltation can be curbed if development is controlled and developers are educated about the environmental and economic implications of artificial occurrence as flood is likely to be product as witnessed often in Lokoja.
Keywords
urbanizing,
River Meme,
catchment,
lokoja,
land use,
runoff,
watershed
Publication Date
Summer December 18, 2012
Citation Information
O O Ifatmehin, P A Essoka and A Ahmed. "Analysis of Land use changes and its hydrological implication on River Niger, Lokoja, Nigeria"
Confluence Journal of Environmental Studies
Vol. 7 (2012)
Available at: http://works.bepress.com/cjes_kogistateuniversity/24/