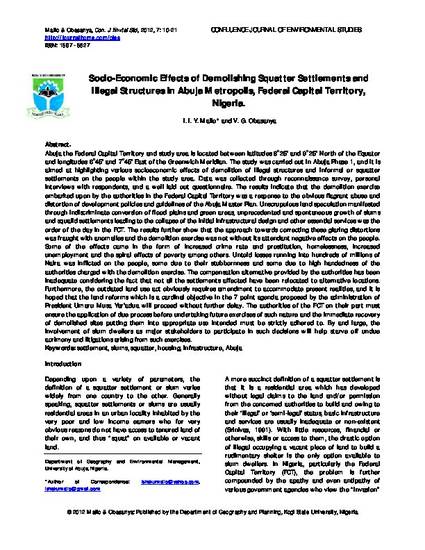 Article
Socio-economic effects of Demolishing Squatter Settlements and Illegal Structures in Abuja Metropolis, Federal Capital Territory, Nigeria
Confluence Journal of Environmental Studies (2012)
Abstract
Abuja the Federal Capital Territory and study area is located between latitudes 8o25' and 9o25' North of the Equator and longitudes 6o45' and 7o45' East of the Greenwich Meridian. The study was carried out in Abuja Phase 1, and it is aimed at highlighting various socioeconomic effects of demolition of illegal structures and informal or squatter settlements on the people within the study area. Data was collected through reconnaissance survey, personal interviews with respondents, and a well laid out questionnaire. The results indicate that the demolition exercise embarked upon by the authorities in the Federal Capital Territory was a response to the obvious flagrant abuse and distortion of development policies and guidelines of the Abuja Master Plan. Unscrupulous land speculation manifested through indiscriminate conversion of flood plains and green areas, unprecedented and spontaneous growth of slums and squalid settlements leading to the collapse of the initial infrastructural design and other essential services was the order of the day in the FCT. The results further show that the approach towards correcting these glaring distortions was fraught with anomalies and the demolition exercise was not without its attendant negative effects on the people. Some of the effects came in the form of increased crime rate and prostitution, homelessness, increased unemployment and the spiral effects of poverty among others. Untold losses running into hundreds of millions of Naira was inflicted on the people, some due to their stubbornness and some due to high handedness of the authorities charged with the demolition exercise. The compensation alternative provided by the authorities has been inadequate considering the fact that not all the settlements affected have been relocated to alternative locations. Furthermore, the outdated land use act obviously requires amendment to accommodate present realities, and it is hoped that the land reforms which is a cardinal objective in the 7 point agenda proposed by the administration of President Umaru Musa Yar'adua will proceed without further delay. The authorities of the FCT on their part must ensure the application of due process before undertaking future exercises of such nature and the immediate recovery of demolished sites putting them into appropriate use intended must be strictly adhered to. By and large, the involvement of slum dwellers as major stakeholders to participate in such decisions will help starve off undue acrimony and litigations arising from such exercises.
Keywords
settlement,
slums,
squatter,
housing,
infrastructure,
Abuja
Publication Date
January 18, 2012
Citation Information
Ishaku IY Mallo and Victor G Obasanya. "Socio-economic effects of Demolishing Squatter Settlements and Illegal Structures in Abuja Metropolis, Federal Capital Territory, Nigeria"
Confluence Journal of Environmental Studies
Vol. 7 (2012)
Available at: http://works.bepress.com/cjes_kogistateuniversity/12/