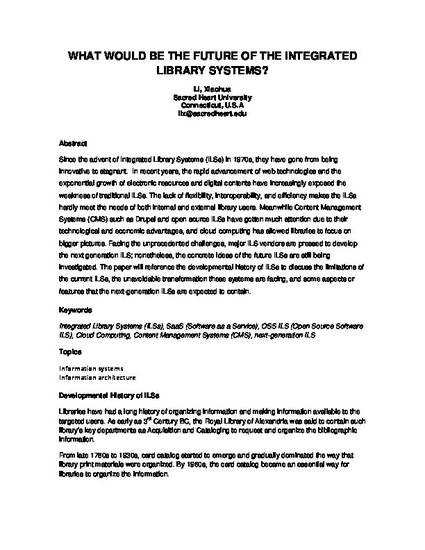 Article
What Would be the Future of the Integrated Library Systems?
Proceedings of the IATUL Conferences
Session Number
Parallel Session 3C
Keywords
Integrated Library Systems (ILSs),
SaaS (Software as a Service),
OSS ILS (Open Source Software ILS),
Cloud Computing,
Content Management Systems (CMS),
next-generation ILS
Description
Since the advent of Integrated Library Systems (ILSs) in 1970s, they have gone from being innovative to stagnant. In recent years, the rapid advancement of web technologies and the exponential growth of electronic resources and digital contents have increasingly exposed the weakness of traditional ILSs. The lack of flexibility, interoperability, and efficiency makes the ILSs hardly meet the needs of both internal and external library users. Meanwhile Content Management Systems (CMS) such as Drupal and open source ILSs have gotten much attention due to their technological and economic advantages, and cloud computing has allowed libraries to focus on bigger pictures. Facing the unprecedented challenges, major ILS vendors are pressed to develop the next generation ILS; nonetheless, the concrete ideas of the future ILSs are still being investigated. The paper will reference the developmental history of ILSs to discuss the limitations of the current ILSs, the unavoidable transformation these systems are facing, and some aspects or features that the next-generation ILSs are expected to contain.
Citation Information
Xiaohua (Cindy) Li. "What Would be the Future of the Integrated Library Systems?" (2014)
Available at: http://works.bepress.com/cindy-li/6/