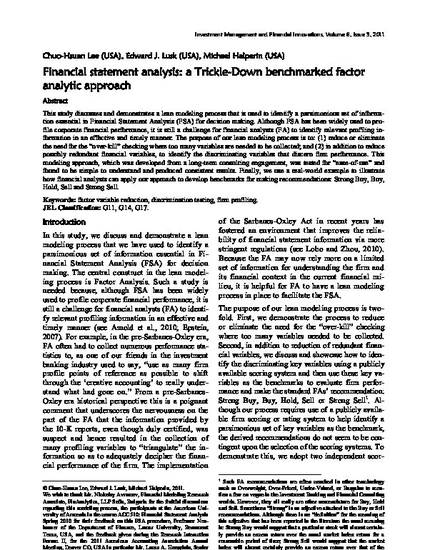 Article
Financial Statement Analysis: A Trickle-Down Benchmarked Factor Analytic Approach
Investment Management and Financial Innovations (2011)
Abstract
This study discusses and demonstrates a lean modeling process that is used to identify a parsimonious set of informa- tion essential in Financial Statement Analysis (FSA) for decision making. Although FSA has been widely used to pro- file corporate financial performance, it is still a challenge for financial analysts (FA) to identify relevant profiling in- formation in an effective and timely manner. The purpose of our lean modeling process is to: (1) reduce or eliminate the need for the "over-kill" checking where too many variables are needed to be collected; and (2) in addition to reduce possibly redundant financial variables, to identify the discriminating variables that discern firm performance. This modeling approach, which was developed from a long-term consulting engagement, was tested for "ease-of-use" and found to be simple to understand and produced consistent results. Finally, we use a real-world example to illustrate how financial analysts can apply our approach to develop benchmarks for making recommendations: Strong Buy, Buy, Hold, Sell and Strong Sell.
Keywords
factor variable reduction,
discrimination testing,
firm profiling
Citation Information
Chuo-Hsuan Lee, Edward J. Lusk and Michael Halperin. "Financial Statement Analysis: A Trickle-Down Benchmarked Factor Analytic Approach"
Investment Management and Financial Innovations
Vol. 8 Iss. 3 (2011)
Available at: http://works.bepress.com/chuo-hsuan_lee/3/