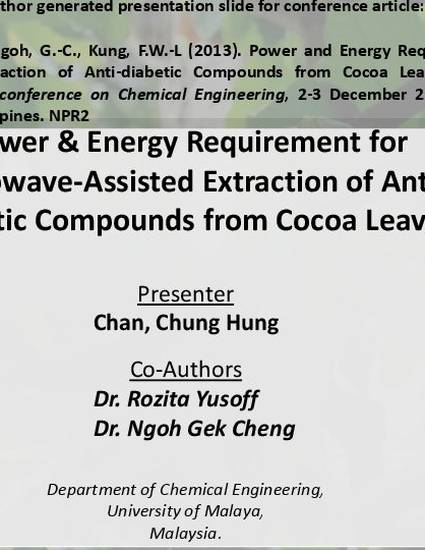 Presentation
Power and Energy Requirement for Microwave-Assisted Extraction of Anti-diabetic Compounds from Cocoa Leaves
. The 6th AUN/SEED-Net regional conference on Chemical Engineering (2013)
Abstract
Microwave-assisted extraction (MAE) is widely employed to extract active compounds from plants. However, optimum operating conditions for MAE reported in literature are applicable only for specific scale of extraction and microwave system. This operational limitation was focused by taking into consideration the intrinsic power and energy required for optimizing the MAE in this study. Thus, the effects of absorbed microwave power density (APD) and absorbed microwave energy density (AED) on MAE of anti-diabetic compounds from cocoa (Theobroma cacao L.) leaves were investigated. This study suggests that APD addresses the real heating power of MAE and characterizes the extraction kinetics of MAE. Meanwhile AED can replace the extraction time to indicate the progress of MAE towards equilibrium extraction regardless of the heating conditions, i.e. solvent loading (100-300 ml) and microwave irradiation power (100-600 W). The optimum power and energy required for theMAE was 0.3 W/ml and 300 J/ml. respectively. They are independent of the extraction scales of 2-6 g sample and their extraction performances are comparable with that of Soxhlet extraction. In addition, structural analysis on plant sample illustrated the impact exerted by the microwave heating. This study highlights the implications and the significances of the energy-related parameters for MAE process.
Keywords
absorbed power density (APD),
absorbed energy density (AED),
optimum extraction,
extraction scale,
solvent loading.
Citation Information
Chung-Hung Chan, Rozita Yusoff, Gek-Cheng Ngoh and Fabian Wai-Lee Kung. "Power and Energy Requirement for Microwave-Assisted Extraction of Anti-diabetic Compounds from Cocoa Leaves"
. The 6th AUN/SEED-Net regional conference on Chemical Engineering
(2013)
Available at: http://works.bepress.com/chung-hung_chan/10/