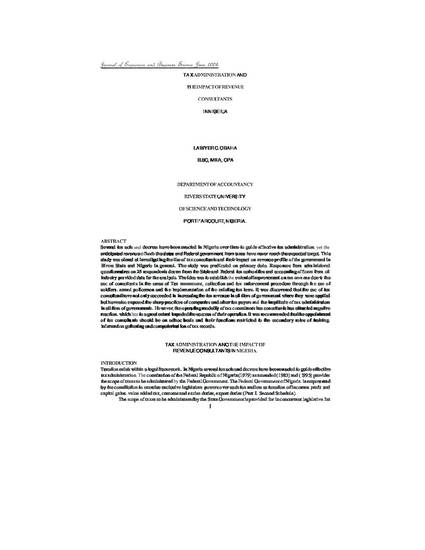 Article
TAX ADMINISTRATION AND THE IMPACT OF REVENUE CONSULTANTS IN NIGERIA
JOURNAL OF ECONOMICS AND B (2004)
Abstract
Several tax acts and decrees have been enacted in Nigeria over time to guide effective tax administration. yet the anticipated revenueofboth theslates and Federal government fromtaxes havenever reach theexpected target. This study was aimed at investigat ingthe lise of tax consultants and their impact on revenue profile of the government in Rivers State and Nigeria in general. The study was predicated on primary data. Responses from administered questionnaires on 25 respondents drawn from the State and Federal tax authorities and accountingofficers from oil industry provideddata for the analysis. The idea was to establishthe extent ofimprovcment ontax reve nue due10 the usc of consultants in the areas of Tax assessment, collection and tax enforcement procedure through the use of soldiers. armed policemen and the implementation of the existing tax laws. It was discovered that the usc of tax consultanthavenot only succeeded in increasingthe tax revenue inall tiers of governmentwhere they were applied but havealso exposed the sharp practices of companies and othertax payers and the ineptitude of tax administrators inall tiers of governments. However, the opera tingmodality of tax consultants has consultants has attractednegative reaction. whichhas to agreat extent impededthe success of their operation. It was recommendedthatthe appointment of tax consultants should be on adhoc basis and their functions restricted to the secondary roles of training. information gatheringandcomputerizat ionof tax records.
Keywords
TAX,
ADMINISTRATION,
IMPACT,
REVENUE,
CONSULTANTS,
NIGERIA
Citation Information
Chukwumah Lawyer Obara. "TAX ADMINISTRATION AND THE IMPACT OF REVENUE CONSULTANTS IN NIGERIA"
JOURNAL OF ECONOMICS AND B
Vol. 1 Iss. 2 (2004)
Available at: http://works.bepress.com/chukwumah_obara/27/