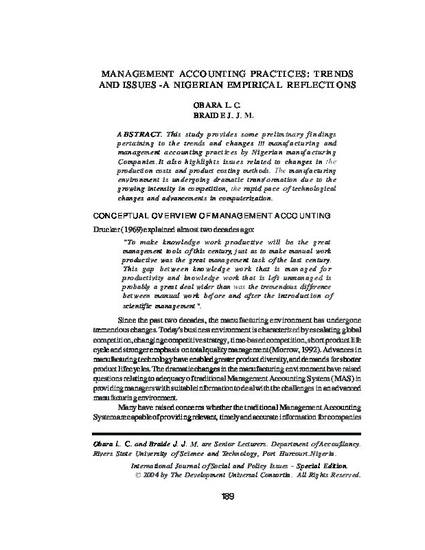 Article
MANAGEMENT ACCOUNTING PRACTI CES: TRENDS AND ISSUES -A NIGERIAN EMPIRICAL REFLECTI ONS
INTERNATIONAL JOURNAL OF SOCIAL AND POLICY (2004)
Abstract
A BSTRACT. This s tudy p ro vides some p relim inary fi ndings p ertaining to the trends and changes i ll manuf actur ing and managem e nt account ing p ract ic es by Nigerian man uf acturing Comp anies .I t also highligh ts issu es rela ted to changes in the producti on cos ts and product costing meth ods. The man uf acturing environment is un dergoing dr amat ic trans/ ormation du e to the growing intensity in competition, the rapid pa ce of technological changes and advancements in computerization.
Keywords
MANAGEMENT,
ACCOUNTING,
PRACTI CES,
TRENDS,
ISSUES,
NIGERIAN EMPIRICAL,
REFLECTI ONS
Citation Information
Chukwumah Lawyer Obara. "MANAGEMENT ACCOUNTING PRACTI CES: TRENDS AND ISSUES -A NIGERIAN EMPIRICAL REFLECTI ONS"
INTERNATIONAL JOURNAL OF SOCIAL AND POLICY
(2004)
Available at: http://works.bepress.com/chukwumah_obara/23/