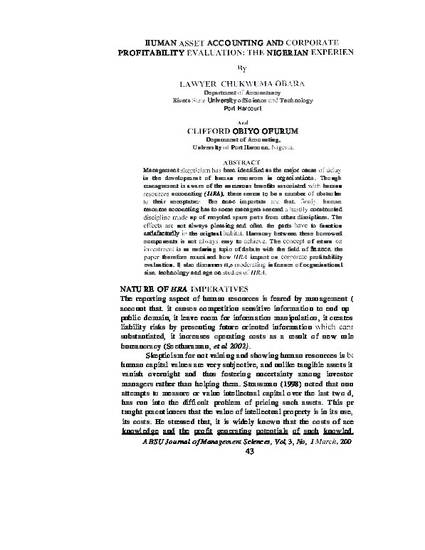 Article
HUMAN ASSET ACCOUNTING AND CORPORATE PROFITABILITY EVALUATI ON: TilE NIGERIAN EXPERIEN
ABSU JOURNAL OF MANAGEMENT SCIENCES (2007)
Abstract
Management skepticism has been identified as the major cause of delay in th e devel opm en t o f hum an reso urces in org anizations. Tho ugh management is awa re of the nu merous ben e fit s associated with human resources accounting (liRA), there seems to be a number or obstac les to thei r nccc ptatucc. l'hc nun-c importatu arc that .. l i rs d~. human resou rce accounti ng has to some managers seemed a hastily constructed disci pli ne made up of recycl ed spare part s from ot her disc iplines . The e ffec ts arc not always pleas ing and often the parts have to funct io n satisfactorily iJ1. the crigtna l habitat. l lnrruon y between these borrowed compo ne nts is not always easy to ach ieve . The concept o f ret urn 0 :1 inve stment is an endurin g topi c of debate with the field of fin ance. the pa pe r therefore exami ned how URA impac t on corporate profi tability evalua tion. It also di sc usses tl,c moderating in fluence o f organisational size. technology and age on studies or liRA .
Keywords
HUMAN,
ASSET,
ACCOUNTING,
CORPORATE PROFITABILITY,
EVALUATI ON,
NIGERIAN,
EXPERIEN
Citation Information
Chukwumah Lawyer Obara. "HUMAN ASSET ACCOUNTING AND CORPORATE PROFITABILITY EVALUATI ON: TilE NIGERIAN EXPERIEN"
ABSU JOURNAL OF MANAGEMENT SCIENCES
Vol. 3 Iss. 1 (2007)
Available at: http://works.bepress.com/chukwumah_obara/21/