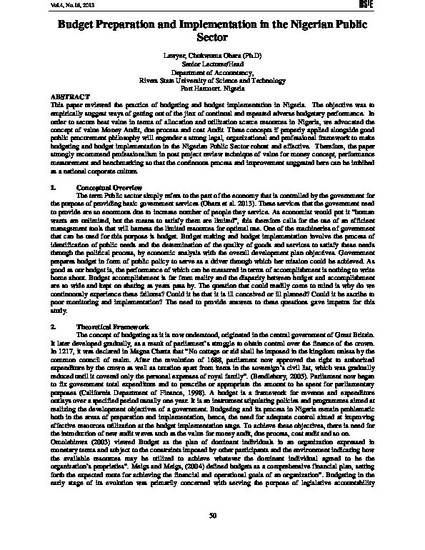 Article
Budget Preparation and Implementation in the Nigerian Public
Research Journal of Finance and Accounting (2013)
Abstract
This paper reviewed the practice of budgeting and budget implementation in Nigeria. The objective was to empirically suggest ways of getting out of the jinx of continual and repeated adverse budgetary performance. In order to secure best value in terms of allocation and utilization scarce resources in Nigeria, we advocated the concept of value Money Audit, due process and cost Audit. These concepts if properly applied alongside good public procurement philosophy will engender a strong legal, organizational and professional framework to make budgeting and budget implementation in the Nigerian Public Sector robust and effective. Therefore, the paper strongly recommend professionalism in post project review technique of value for money concept, performance measurement and benchmarking so that the continuous process and improvement suggested here can be imbibed as a national corporate culture.
Keywords
Budget,
Preparation,
Implementation,
Nigerian,
Public,
Sector
Citation Information
Chukwumah Lawyer Obara. "Budget Preparation and Implementation in the Nigerian Public"
Research Journal of Finance and Accounting
Vol. 4 Iss. 16 (2013)
Available at: http://works.bepress.com/chukwumah_obara/2/