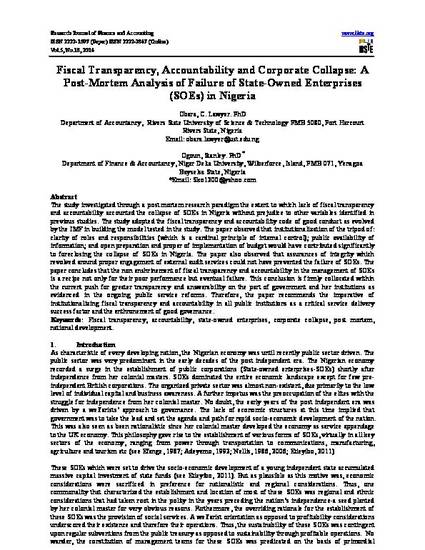 Article
Fiscal Transparency, Accountability and Corporate Collapse: A Post-Mortem Analysis of Failure of State-Owned Enterprises (SOEs) in Nigeria
Research Journal of Finance and Accounting (2014)
Abstract
The study investigated through a post mortem research paradigm the extent to which lack of fiscal transparency and accountability accounted the collapse of SOEs in Nigeria without prejudice to other variables identified in previous studies. The study adopted the fiscal transparency and accountability code of good conduct as evolved by the IMF in building the model tested in the study. The paper observed that institutionalization of the tripod of: clarity of roles and responsibilities (which is a cardinal principle of internal control); public availability of information; and open preparation and proper of implementation of budget would have contributed significantly to foreclosing the collapse of SOEs in Nigeria. The paper also observed that assurances of integrity which revolved around proper engagement of external audit services could not have prevented the failure of SOEs. The paper concludes that the non enshrinement of fiscal transparency and accountability in the management of SOEs is a recipe not only for their poor performance but eventual failure. This conclusion is firmly collocated within the current push for greater transparency and answerability on the part of government and her institutions as evidenced in the ongoing public service reforms. Therefore, the paper recommends the imperative of institutionalizing fiscal transparency and accountability in all public institutions as a critical service delivery success factor and the enthronement of good governance.
Keywords
Fiscal transparency,
accountability,
state-owned enterprises,
corporate collapse,
post mortem,
national development
Citation Information
Chukwumah Lawyer Obara. "Fiscal Transparency, Accountability and Corporate Collapse: A Post-Mortem Analysis of Failure of State-Owned Enterprises (SOEs) in Nigeria"
Research Journal of Finance and Accounting
Vol. 5 Iss. 18 (2014)
Available at: http://works.bepress.com/chukwumah_obara/10/