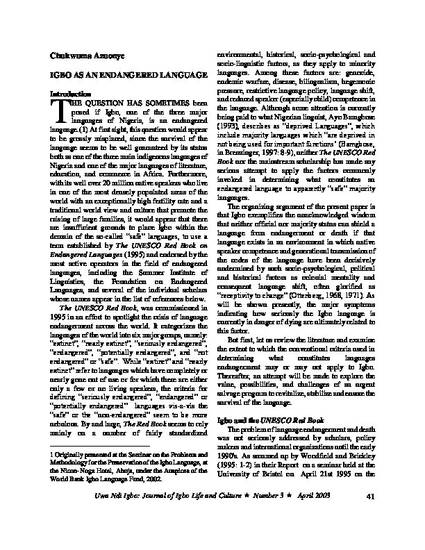 Article
Igbo as an Endangered Language
presented at the Seminar on the Problems and Methodology for the Preservation of the Igbo Language, at the Nicon-Noga Hotel, Abuja, under the Auspices of the World Bank Igbo Language Fund, 2002 (2002)
Abstract
At first sight, the question "Is Igbo an endangered language," would appear to be grossly misplaced, since the survival of the language seems to be well guaranteed by its status both as one of the three main languages of Nigeria and one of the major languages of literature, education, and commerce in Africa. Furthermore, with its well over 25 million native speakers who live in one of the most densely populated areas of the world with an exceptionally high fertility rate and a traditional world view and culture that promote the raising of large families, it would appear that there are sufficient grounds to place Igbo within the domain of the so-called "safe" languages, to use a term established by The UNESCO Red Book on Endangered Languages (1995). The present paper offers some evidence to the contrary.
Citation Information
Chukwuma Azuonye. "Igbo as an Endangered Language"
presented at the Seminar on the Problems and Methodology for the Preservation of the Igbo Language, at the Nicon-Noga Hotel, Abuja, under the Auspices of the World Bank Igbo Language Fund, 2002
(2002)
Available at: http://works.bepress.com/chukwuma_azuonye/93/