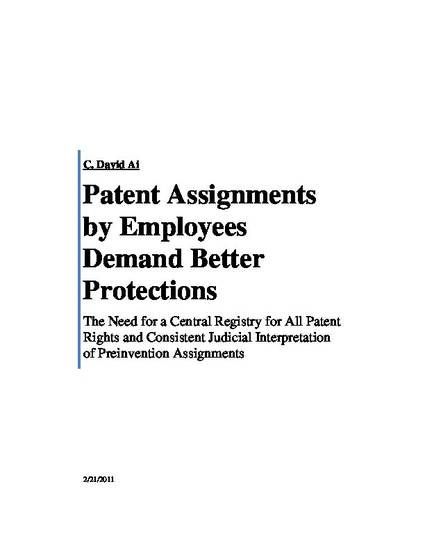 Unpublished Paper
Patent Assignments by Employees Demand Better Protections
ExpressO (2011)
Abstract
Two problems make it nearly impossible for a buyer of patent rights – either as an assignee or a licensee – to know if the title is clean. First, there is no single central registry where all economic rights to patents are stored and searched. Patent assignments and licenses may be recorded at the U.S. Patent and Trademark Office, merely as an option. More significantly, for the vast majority of inventors in the U.S. who are employed and obligated to assign their future patents invented on the job, there is no way to record such pre-invention assignments. To remedy this problem, A central registry system is proposed for all patent licenses and assignments, so that commercial transactions can rely on searchable and insurable clean title to the patent of interest.
Second, courts have not consistently interpreted common law contractual rights. This is illustrated by the case Stanford v. Roche currently before the U.S. Supreme Court, where the Federal Circuit incorrectly applied case law and misinterpreted a California statute below. Because the Supreme Court took the certiorari ostensibly to interpret the Bayh-Dole Act of 1980, it is unlikely that these contract law issues will be emphasized by the Court's upcoming ruling in June. Here, the paper argues that preinvention assignments must be treated as transfers of an equitable interest, along with the title's existing defects and prior encumbrances. Such a treatment prevents the inequitable result in two consecutive future assignments, where the second assignment cuts off all the rights of the first assignment.
Because 92% of all U.S. inventions are assigned to employers, preinvention assignments have become the norm. Therefore, they demand better consistency and transparency in the patent system.
Keywords
patent assignment,
Stanford,
Roche,
intellectual property
Publication Date
April 8, 2011
Citation Information
Chuan D Ai. "Patent Assignments by Employees Demand Better Protections"
ExpressO
(2011)
Available at: http://works.bepress.com/chuan_ai/2/