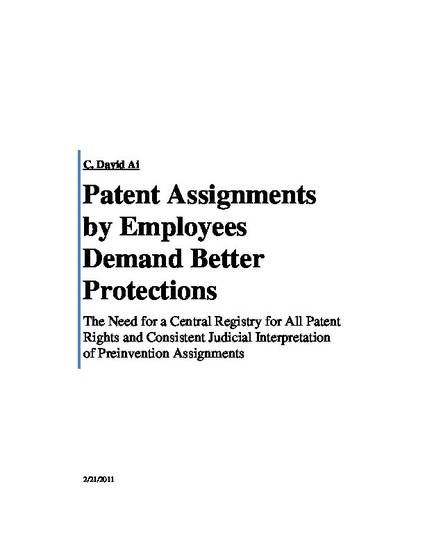 Unpublished Paper
Patent Assignments by Employees Demand Better Protections
ExpressO (2011)
Abstract
In the decision of Stanford v. Roche, the Court of Appeals for the Federal Circuit focused on the assignment clause in two contracts signed by the same inventor, and compared the language of "I will assign and do hereby assign" (in Cetus/Roche's contract) against "I agree to assign" (in Stanford's contract). The Federal Circuit failed to examine the completely different contexts of the two contracts -- Roche's Visitor's Confidentiality Agreement versus Stanford's Employment Invention Assignment Agreement -- thus suggesting that an assignment clause in any contract carries the same weight. Increasingly, IP assignment language appears in a variety of contracts, such as Non-Disclosure Agreements and Visitors Confidentiality Agreements, leading to un-negotiated and sometimes unknowing assignments. To avoid confusion and promote fairness as well as predictability, there is an urgent need for a central registry system for all patent interests. There is also a need for more scrutiny in each assignment clause in its context, beyond just a mechanical analysis of each assignment clause out of context. Such scrutiny should encompass the relationship between the parties, the nature of the contract, the prominence of the assignment clause, and the reasonableness of what inventions should be included. Finally, courts should enforce the common law rule that equitable interest purchasers take the place of the seller and assume all risks and prior equitable claims existing in the title.
Keywords
patent assignment,
patent licensing,
preinvention assignment,
patent registration
Publication Date
March 19, 2011
Citation Information
C. David Ai. "Patent Assignments by Employees Demand Better Protections"
ExpressO
(2011)
Available at: http://works.bepress.com/chuan_ai/1/