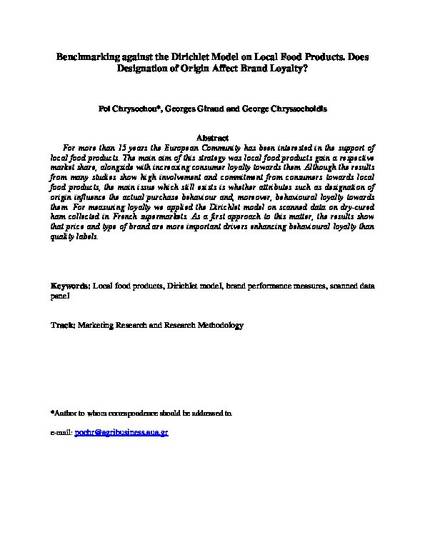 Presentation
Benchmarking against the Dirichlet Model on local food products: Does designation of origin affect brand loyalty?
35th European Marketing Academy Conference (2006)
Abstract
For more than 15 years the European Community has been interested in the support of local food products. The main aim of this strategy was local food products gain a respective market share, alongside with increasing consumer loyalty towards them. Although the results from many studies show high involvement and commitment from consumers towards local food products, the main issue which still exists is whether attributes such as designation of origin influence the actual purchase behaviour and, moreover, behavioural loyalty towards them. For measuring loyalty we applied the Dirichlet model on scanned data on dry-cured ham collected in French supermarkets. As a first approach to this matter, the results show that price and type of brand are more important drivers enhancing behavioural loyalty than quality labels.
Citation Information
Polymeros Chrysochou, Georges Giraud, and George Chryssochoidis. "Benchmarking against the Dirichlet Model on local food products: Does designation of origin affect brand loyalty?" 35th European Marketing Academy Conference. Athens, Greece. 23-26 May, 2006. Available at: http://works.bepress.com/chrysochou/11