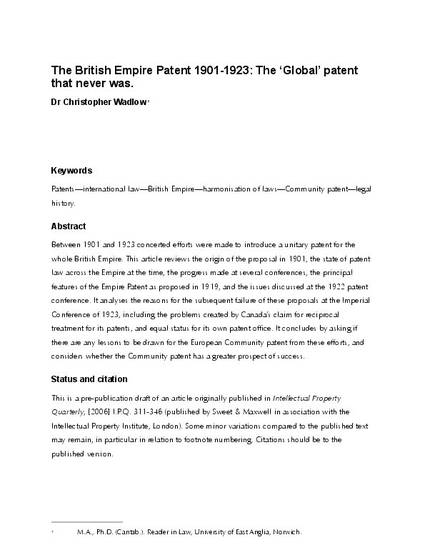 Article
The British Empire Patent 1901-1923: the 'global' patent that never was
Intellectual Property Quarterly (2006)
Abstract
Reflects on the lessons which unsuccessful efforts to introduce a British Empire patent prior to 1923 may offer for the European Community patent. Reviews the origin of the proposal in 1901, the state of patent law across the Empire at the time, the progress made at several Imperial conferences, key features of the 1919 memorandum and the issues discussed at the 1922 patent conference. Outlines the reasons for the failure of the 1923 proposals, including the problems created by Canada's claim for reciprocal treatment for its patents, and considers whether the EC Community patent has a greater prospect of success.
Keywords
Patents,
global harmonisation of law,
British Empire Patent,
legal history
Citation Information
Christopher Wadlow. "The British Empire Patent 1901-1923: the 'global' patent that never was"
Intellectual Property Quarterly
Iss. 4 (2006)
Available at: http://works.bepress.com/christopher_wadlow/16/