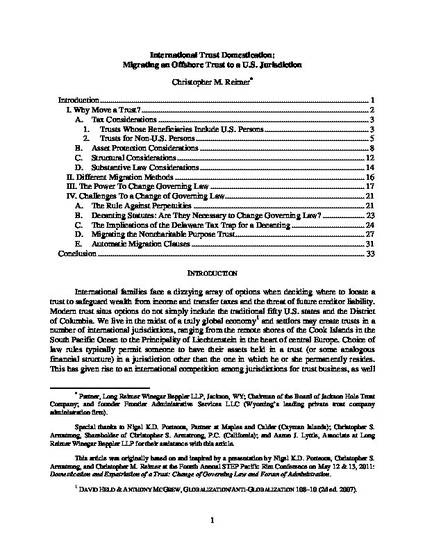 Unpublished Paper
International Trust Domestication: Migrating an Offshore Trust to a U.S. Jurisdiction
ExpressO (2011)
Abstract
What should an estate planning attorney know before repatriating a foreign trust to the United States?
U.S. and non-U.S. residents should consider the benefits of migrating trusts from offshore jurisdictions to a domestic state, such as Wyoming. For decades, foreign trusts held allure for families seeking to preserve wealth from the steady drain of taxation and the inevitable risk of creditor attack. But the federal government now imposes burdensome reporting and tax requirements on foreign trusts. Many states also offer tax, asset protection, substantive, and structural benefits that mitigate the comparative advantage of offshore trusts.
First, this article explains rationales for migrating a foreign trust to a U.S. jurisdiction. Next, it discusses different ways that practitioners may bring about such a change of governing law. Finally, the article examines timely issues raised by international trust migration, including the use of migration to avoid the Rule Against Perpetuities, the use of statutory or common law decanting to change governing law, how to minimize the risks posed by the Delaware Tax Trap, how to migrate noncharitable purpose trusts, and the advisability of automatic migration clauses
By resettling a trust in Wyoming, settlors and beneficiaries can obtain many of the benefits and protections of offshore trusts, but without the resulting heartburn.
Keywords
international estate planning,
trust migration,
trust decanting,
asset protection,
governing law,
tax planning
Publication Date
September 7, 2011
Citation Information
Christopher M. Reimer. "International Trust Domestication: Migrating an Offshore Trust to a U.S. Jurisdiction"
ExpressO
(2011)
Available at: http://works.bepress.com/christopher_reimer/1/