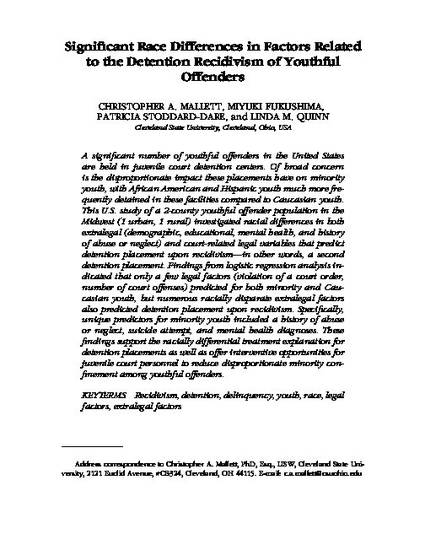 Article
Significant Race Differences in Factors Related to the Detention Recidivism of Youthful Offenders
Journal of Ethnicity in Criminal Justice
Publication Date
1-1-2012
Keywords
recidivism,
juvenile delinquents,
racial differences,
youth,
mental health
Abstract
A significant number of youthful offenders in the United States are held in juvenile court detention centers. Of broad concern is the disproportionate impact these placements have on minority youth, with African American and Hispanic youth much more frequently detained in these facilities compared to Caucasian youth. This U.S. study of a 2-county youthful offender population in the Midwest (1 urban, 1 rural) investigated racial differences in both extralegal (demographic, educational, mental health, and history of abuse or neglect) and court-related legal variables that predict detention placement upon recidivism—in other words, a second detention placement. Findings from logistic regression analysis indicated that only a few legal factors (violation of a court order, number of court offenses) predicted for both minority and Caucasian youth, but numerous racially disparate extralegal factors also predicted detention placement upon recidivism. Specifically, unique predictors for minority youth included a history of abuse or neglect, suicide attempt, and mental health diagnoses. These findings support the racially differential treatment explanation for detention placements as well as offer interventive opportunities for juvenile court personnel to reduce disproportionate minority confinement among youthful offenders.
DOI
10.1080/15377938.2012.642727
Publisher's Statement
(c) 2012 Taylor & Francis
Citation Information
Christopher A Mallett, Miyuki Fukushima, Patricia A Stoddard Dare and Linda M Quinn. "Significant Race Differences in Factors Related to the Detention Recidivism of Youthful Offenders"
Journal of Ethnicity in Criminal Justice
Vol. 10 Iss. 1 (2012) p. 24 - 40
Available at: http://works.bepress.com/christopher_mallett/9/