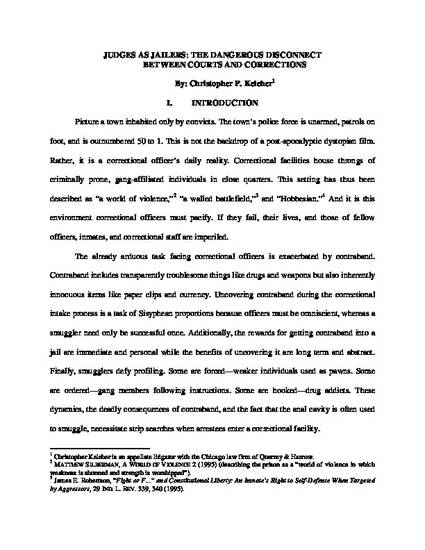 Unpublished Paper
Judges as Jailers: The Dangerous Disconnect Between Courts and Corrections
ExpressO (2011)
Abstract
Lawsuits alleging constitutional violations have forced correctional officials to reduce the scope of intake searches or scrap them altogether. Such suits have revolved around the poles of privacy and security, and privacy has been winning thoroughly. While privacy is a worthwhile goal, three points must be remembered. First, the traditional notion of privacy is inapplicable in the correctional context. Second, correctional officials have a legal duty to protect inmates. Third, the unintended but certainly foreseeable consequence of elevating privacy is increased contraband. Courts have not recognized the realities of contraband—who carries it, how they carry it, why they carry it. Also evaded are the murders, rape, and drug abuse contraband spawns. The irony that elevating inmate privacy endangers inmate lives goes unnoticed. Increased contraband is not the only consequence of finding strip searches unconstitutional. The financial impact of such suits is staggering.
Since the 1980s, federal courts have repeatedly held that the Fourth Amendment forbids strip searching misdemeanant arrestees absent reasonable suspicion. Yet in the 1979 decision of Bell v. Wolfish, the Supreme Court held the exact opposite. Deviating from Supreme Court precedent is troubling. More so when it is the basis for bankruptcy-flirting municipalities to dispense millions.
Keywords
bodily privacy,
correctional security,
contraband
Publication Date
March 2, 2011
Citation Information
christopher keleher. "Judges as Jailers: The Dangerous Disconnect Between Courts and Corrections"
ExpressO
(2011)
Available at: http://works.bepress.com/christopher_keleher/1/