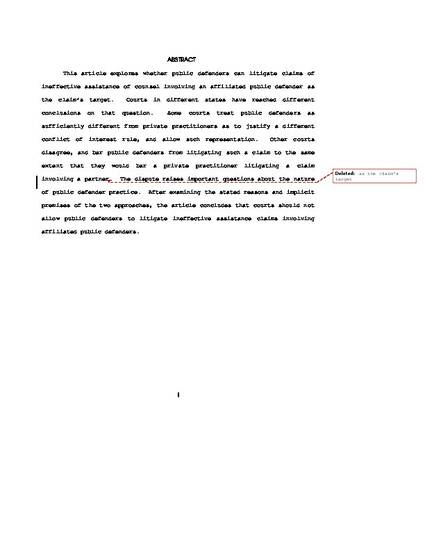 Unpublished Paper
Not For Love or Money: Appointing a Public Defender to Litigate a Claim of Ineffective Assistance Involving Another Public Defender
ExpressO (2008)
Abstract
This article explores whether public defenders can litigate claims of ineffective assistance of counsel involving an affiliated public defender as the claim's target. Courts in different states have reached different conclusions on that question. Some courts treat public defenders as sufficiently different from private practitioners as to justify a different conflict of interest rule, and allow such representation. Other courts disagree, and bar public defenders from litigating such a claim to the same extent that they would bar a private practitioner litigating a claim involving a partner as the claim's target. The dispute raises important questions about the nature of public defender practice. After examining the stated reasons and implicit premises of the two approaches, the article concludes that courts should not allow public defenders to litigate ineffective assistance claims involving affiliated public defenders.
Keywords
Public Defener,
Ineffective Assistance of Counsel,
Legal Ethics
Publication Date
March 24, 2008
Citation Information
Christopher M Johnson. "Not For Love or Money: Appointing a Public Defender to Litigate a Claim of Ineffective Assistance Involving Another Public Defender"
ExpressO
(2008)
Available at: http://works.bepress.com/christopher_johnson/1/