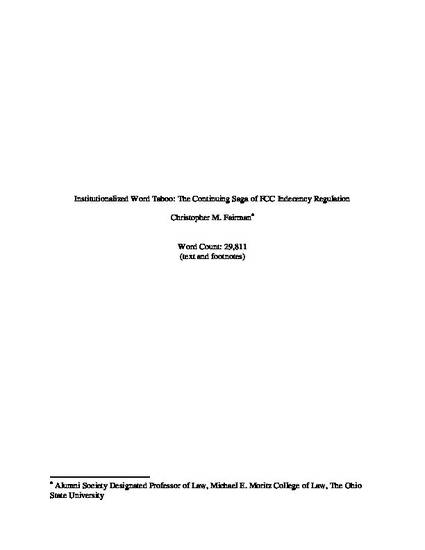 Unpublished Paper
Institutionalized Word Taboo: The Continuing Saga of FCC Indecency Regulation
ExpressO (2013)
Abstract
Indecency regulation by the Federal Communication Commission and Supreme Court is the product of word taboo—the subconscious, emotional, involuntary avoidance of certain words out of fear that some harm will occur if they are spoken. Acting in tandem, the Court and the Commissioners create institutionalized word taboo based upon the assumption that broadcast media's pervasive and intrusive presence into the home endangers unsupervised children. Technological innovation renders this premise invalid today, but institutionalized word taboo remains. This article (1) traces the rise of indecency regulation, (2) explains the invalidity of the assumptions used to justify it, (3) introduces word taboo as an explanation for the resilience of regulation, and (4) offers preferable options providing a path for science and reason to triumph over institutionalized word taboo.
Keywords
FCC,
indecency,
taboo,
First Amendment,
Pacifica,
Golden Globe,
Fox Television,
profanity,
institutionalized word taboo,
broadcast media
Publication Date
February 22, 2013
Citation Information
Christopher M Fairman. "Institutionalized Word Taboo: The Continuing Saga of FCC Indecency Regulation"
ExpressO
(2013)
Available at: http://works.bepress.com/christopher_fairman/14/