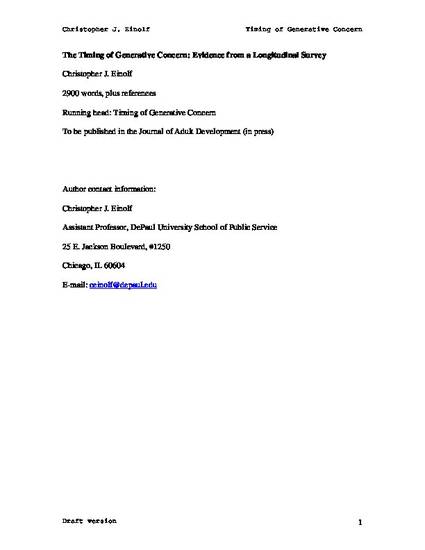 Article
The Timing of Generative Concern: Evidence from a Longitudinal Survey
Journal of Adult Development (2011)
Abstract
Longitudinal data taken at a ten year interval from a large, nationally representative sample were used to examine whether generative concern, as measured by a reduced form of the Loyola Generativity Scale (LGS), changed through the life course. Men aged 25-30 in 1995 scored significantly higher on the LGS in 2005 (p < .05), and women aged 41-50 and 61-74 in 1995 experienced slight but statistically significant (p < .05) decreases. With these exceptions, mean levels of generative concern remained constant, suggesting that generative concern may be a stable personality trait, not associated with a particular life stage.
Citation Information
Christopher J Einolf. "The Timing of Generative Concern: Evidence from a Longitudinal Survey"
Journal of Adult Development
(2011)
Available at: http://works.bepress.com/christopher_einolf/13/