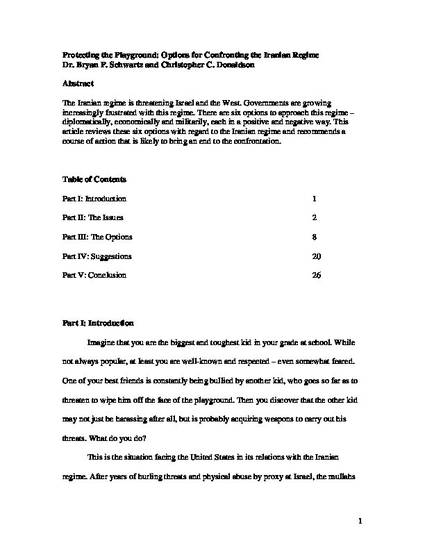 Unpublished Paper
Protecting the Playground: Options for Confronting the Iranian Regime
ExpressO (2009)
Abstract
The Iranian regime is threatening Israel and the West. Governments are growing increasingly frustrated with this regime. There are six options to approach this regime – diplomatically, economically and militarily, each in a positive and negative way. This article reviews these six options with regard to the Iranian regime and recommends a course of action that is likely to bring an end to the confrontation.
Publication Date
October 7, 2009
Citation Information
Christopher C Donaldson and Dr. Bryan P Schwartz. "Protecting the Playground: Options for Confronting the Iranian Regime"
ExpressO
(2009)
Available at: http://works.bepress.com/christopher_donaldson/1/