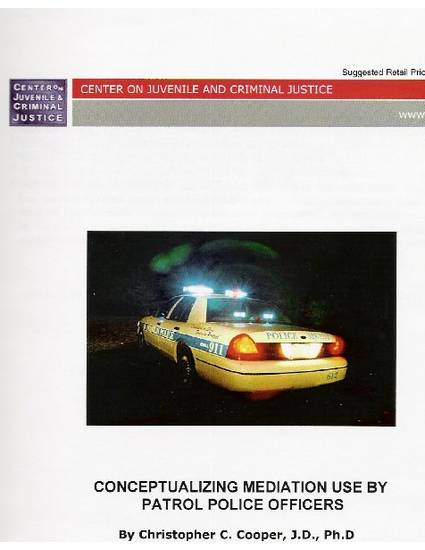 Article
CONCEPTUALIZING MEDIATION USE BY PATROL POLICE OFFICERS
CENTER ON JUVENILE & CRIMINAL JUSTICE Justice Policy Journal Volume 1, Number 2: Spring 2003, http://www.cjcj.org/jpj/2007/08/justice/policy/journal/4 (2003)
Abstract
Police officers assigned to patrol duties, in America's big cities in particular, can mediate disputes to which they respond; as well as should make referrals to mediation\conflict resolution centers. When police officers employ excellent social interaction and problem solving skills, situations are de-escalated; the safety of officers and citizens alike is better insured and positive police-citizen interaction is achieved.
Keywords
MEDIATION,
PATROL POLICE,
DE-ESCALATION,
CONFLICT RESOLUTION
Publication Date
Spring January 1, 2003
Citation Information
Christopher C. Cooper. "CONCEPTUALIZING MEDIATION USE BY PATROL POLICE OFFICERS"
CENTER ON JUVENILE & CRIMINAL JUSTICE Justice Policy Journal Volume 1, Number 2: Spring 2003, http://www.cjcj.org/jpj/2007/08/justice/policy/journal/4
Vol. 1 Iss. 2 (2003)
Available at: http://works.bepress.com/christopher_cooper/15/