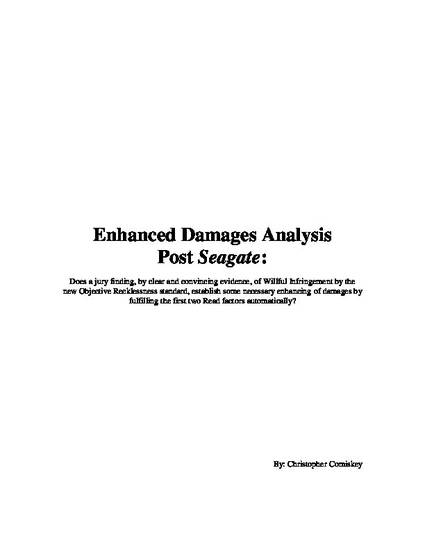 Unpublished Paper
Enhanced Damages Analysis Post-Seagate
ExpressO (2010)
Abstract
With section 284 of the Patent Act, the Congress provided permissively that a court "may" enhance damages. Shortly after the birth of the Court of Appeals of the Federal Circuit, the court 'grafted' a showing of willfulness as a necessary precursor to enhancing damages. For almost a quarter century the rule has required a threshold fact finding before allowing a District Court to exert its own 'discretion' as to how much to enhance damages, if at all. While the District Courts have had freedom to exert there discretion, the Federal Circuit has required that they weigh out a set of nine factors and articulate how those factors support there discretionary enhancement.
Following In re Seagate in 2007, the standard the fact finder must use to establish willfulness became more stringent. Since then the Judiciary has developed a jurisprudence that must honor the fact founds by a jury and must still pretend to weigh out the Read factors. An illogical result is shown under the current framework by an analysis that assesses the relative values of the Read factors and how two of the factors are automatically established by the findings made by the new willfulness standard. If a district court is truly to have the discretion to enhance damages then changes must be made.
Keywords
patent,
seagate,
enhanced damages,
wilfull infringment,
read factors
Publication Date
February 5, 2010
Citation Information
Christopher Comiskey. "Enhanced Damages Analysis Post-Seagate"
ExpressO
(2010)
Available at: http://works.bepress.com/christopher_comiskey/1/