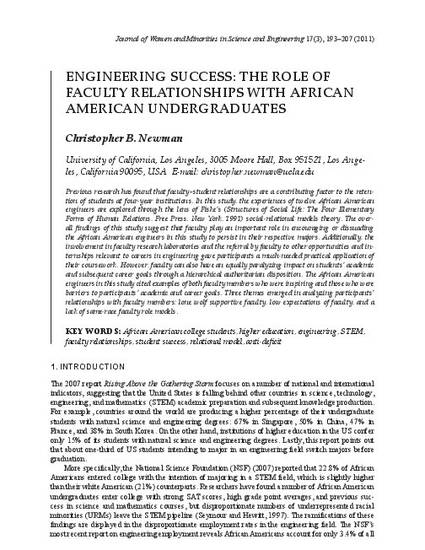 Article
Engineering Success: The Role of Faculty Relationships With African American Undergraduates
Journal of Women and Minorities in Science and Engineering (2011)
Abstract
Previous research has found that faculty–student relationships are a contributing factor to the retention of students at four-year institutions. In this study, the experiences of twelve African American engineers are explored through the lens of Fiske's (Structures of Social Life: The Four Elementary Forms of Human Relations, Free Press, New York, 1991) social-relational models theory. The overall findings of this study suggest that faculty play an important role in encouraging or dissuading the African American engineers in this study to persist in their respective majors. Additionally, the involvement in faculty research laboratories and the referral by faculty to other opportunities and internships relevant to careers in engineering gave participants a much-needed practical application of their coursework. However, faculty can also have an equally paralyzing impact on students' academic and subsequent career goals through a hierarchical authoritarian disposition. The African American engineers in this study cited examples of both faculty members who were inspiring and those who were barriers to participants' academic and career goals. Three themes emerged in analyzing participants' relationships with faculty members: lone wolf supportive faculty, low expectations of faculty, and a lack of same-race faculty role models.
Keywords
African American college students,
higher education,
engineering,
STEM,
faculty relationships,
student success,
relational model,
anti-deficit
Citation Information
Newman, C. B. (2011). Engineering success: The role of faculty relationships with African American undergraduate.
Journal of Women and Minorities in Science and Engineering, 17
(3), 193-209.