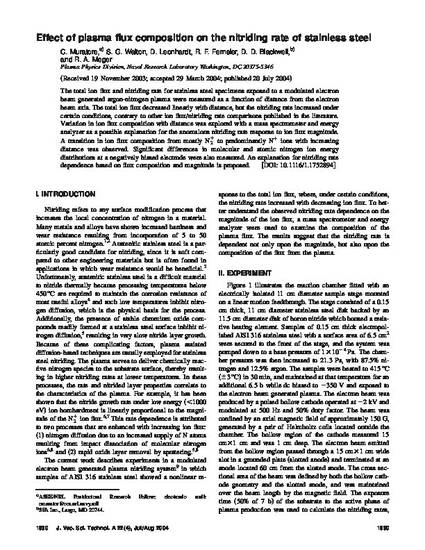 Article
Effect of Plasma Flux Composition on the Nitriding Rate of Stainless Steel
Journal of Vacuum Science & Technology A
Publication Date
1-1-2004
Abstract
The total ion flux and nitriding rate for stainless steel specimens exposed to a modulated electron beam generated argon-nitrogen plasma were measured as a function of distance from the electron beam axis. The total ion flux decreased linearly with distance, but the nitriding rate increased under certain conditions, contrary to other ion flux/nitriding rate comparisons published in the literature. Variation in ion flux composition with distance was explored with a mass spectrometer and energy analyzer as a possible explanation for the anomalous nitriding rate response to ion flux magnitude. A transition in ion flux composition from mostly N2 1 to predominantly N1 ions with increasing distance was observed. Significant differences in molecular and atomic nitrogen ion energy distributions at a negatively biased electrode were also measured. An explanation for nitriding rate dependence based on flux composition and magnitude is proposed.
Inclusive pages
1530-1535
Document Version
Published Version
Copyright
Copyright © 2004, American Vacuum Society
Publisher
American Vacuum Society
Sponsoring Agency
Office of Naval Research
Citation Information
Christopher Muratore, Scott G. Walton, D. Leonhardt, Richard F. Fernsler, et al.. "Effect of Plasma Flux Composition on the Nitriding Rate of Stainless Steel"
Journal of Vacuum Science & Technology A
Vol. 22 Iss. 4 (2004)
Available at: http://works.bepress.com/christopher-muratore/5/