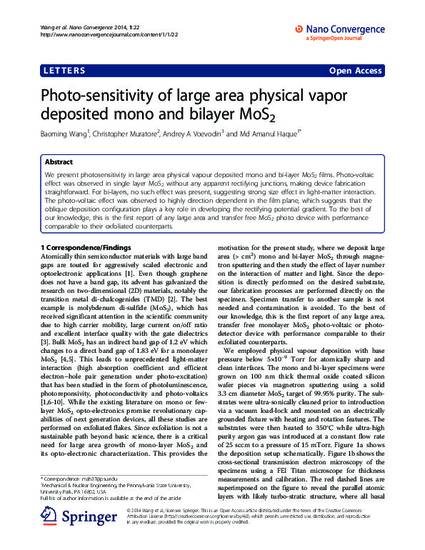 Article
Photo-Sensitivity of Large Area Physical Vapor Deposited Mono and Bilayer MoS2
Nano Convergence
Publication Date
8-1-2014
Abstract
We present photosensitivity in large area physical vapour deposited mono and bi-layer MoS2 films. Photo-voltaic effect was observed in single layer MoS2 without any apparent rectifying junctions, making device fabrication straightforward. For bi-layers, no such effect was present, suggesting strong size effect in light-matter interaction. The photo-voltaic effect was observed to highly direction dependent in the film plane, which suggests that the oblique deposition configuration plays a key role in developing the rectifying potential gradient. To the best of our knowledge, this is the first report of any large area and transfer free MoS2 photo device with performance comparable to their exfoliated counterparts.
Document Version
Published Version
Copyright
Copyright © 2014, Wang et al.; licensee Springer 2014
Citation Information
Baoming Wang, Christopher Muratore, Andrey A. Voevodin and M. Amanul Haque. "Photo-Sensitivity of Large Area Physical Vapor Deposited Mono and Bilayer MoS2"
Nano Convergence
Vol. 1 Iss. 22 (2014)
Available at: http://works.bepress.com/christopher-muratore/2/