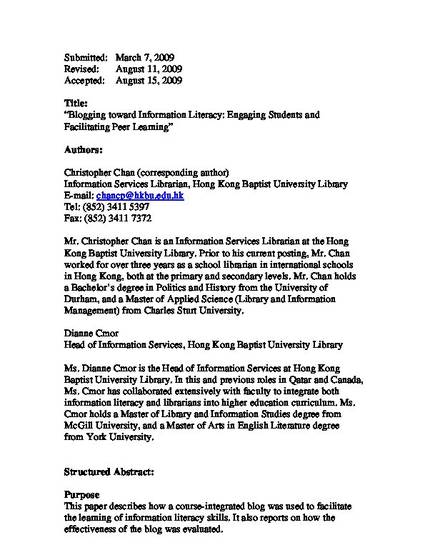 Article
Blogging toward Information Literacy: Engaging Students and Facilitating Peer Learning
Reference Services Review
Document Type
Journal Article
Abstract
Purpose This paper describes how a course-integrated blog was used to facilitate the learning of information literacy skills. It also reports on how the effectiveness of the blog was evaluated. Design/methodology/approach The blog was made the centerpiece of library support offered to a first-year politics course. With the support of the faculty member involved, students were required to post answers to weekly library research skills questions posted to the blog. The quality of student responses was examined using a simple assessment rubric. Also, a survey was administered to students to determine perceived usefulness. Findings The evaluation of blog posts showed that the quality of answers was generally very good. Students put effort into their responses and most gave accurate and thorough answers. The results of the survey indicated that most students felt the blog was useful to their learning, both in terms of general information skills, and in terms of helping research the term paper for the course. Research limitations/implications These results reflect just one course at a single university, therefore it is not possible to use the findings to make generalizations. The study could serve as a starting point for further inquiry into the evaluation of blogs as a support tool. Originality/value While others have reported on using blogs in a similar manner, this study also attempts a thorough evaluation of the efficacy of the blog in helping students learn. Given the positive results of this evaluation, librarians could consider using blogs and other Web 2.0 tools to engage students in their own learning.
Keywords
Blogs,
Library 2.0,
Course-integration,
Collaboration,
Hong Kong
Publication Date
1-1-2009
Link to Publisher's Edition
http://www.emeraldinsight.com/10.1108/00907320911007001
Citation Information
Christopher Chan and Dianne Cmor. "Blogging toward Information Literacy: Engaging Students and Facilitating Peer Learning"
Reference Services Review
Vol. 37 Iss. 4 (2009) p. 395 - 407 ISSN: 00907324
Available at: http://works.bepress.com/christopher-chan/1/