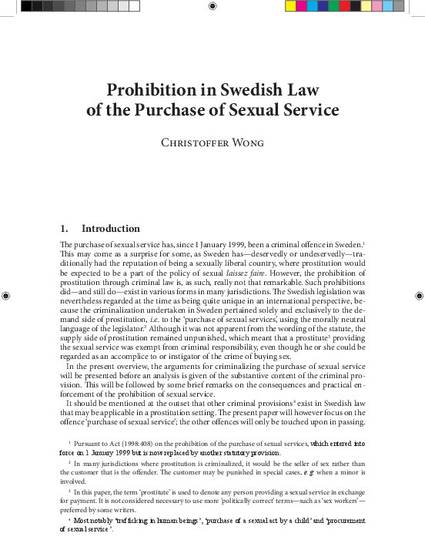 Unpublished Paper
Prohibition in Swedish Law of the Purchase of Sexual Service
(2013)
Abstract
Prostitution has never been a criminal offence under Swedish law. However, the purchase of sexual service is criminalized. It is thus the client who commits a criminal offence; the prostitute is not punishable as an accomplice. The legislation is gender-neutral. Attempt to commit the offence is also punishable. The maximum penalty for this offence is (from 2011) one year's imprisonment. In addition to describing the content of the law, the present paper provides the background to the Swedish legislation, analyses the debate in connection with the legislative process and comments on some statistics on the effect of the law. This paper is based on a talk given at the Faculty of Law, University of Parma in June 2012. A published version in Italian is forthcoming.
Keywords
Prostitution,
purchase of sexual service
Publication Date
October 8, 2013
Citation Information
Christoffer Wong, "Prohibition in Swedish Law of the Purchase of Sexual Service", unpublished paper (2013) available at http://works.bepress.com/christoffer_wong/19/.