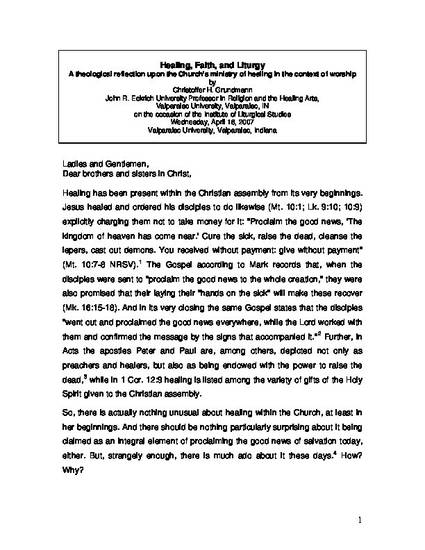 Presentation
Healing, Faith, and Liturgy: A Theological Reflection upon the Church's Ministry of Healing in the Context of Worship
Theology Faculty Presentations
Document Type
Conference Proceeding
Publication Date
4-18-2007
Abstract
(excerpt) "Healing has been present within the Christian assembly from its very beginnings. Jesus healed and ordered his disciples to do likewise (Mt. 10:1; Lk. 9:10; 10:9) explicitly charging them not to take money for it: 'Proclaim the good news, 'The kingdom of heaven has come near.' Cure the sick, raise the dead, cleanse the lepers, cast out demons. You received without payment: give without payment' (Mt. 10:7-8 NRSV). The Gospel according to Mark records that, when the disciples were sent to 'proclaim the good news to the whole creation,' they were also promised that their laying their 'hands on the sick' will make these recover (Mk. 16:15-18). And in its very closing the same Gospel states that the disciples 'went out and proclaimed the good news everywhere, while the Lord worked with them and confirmed the message by the signs that accompanied it.' Further, in Acts the apostles Peter and Paul are, among others, depicted not only as preachers and healers, but also as being endowed with the power to raise the dead, while in 1 Cor. 12:9 healing is listed among the variety of gifts of the Holy Spirit given to the Christian assembly."
Citation Information
Christoffer H. Grundmann. "Healing, Faith, and Liturgy: A Theological Reflection upon the Church's Ministry of Healing in the Context of Worship" Institute of Liturgical Studies. Valparaiso, Indiana, USA. Apr. 2007.