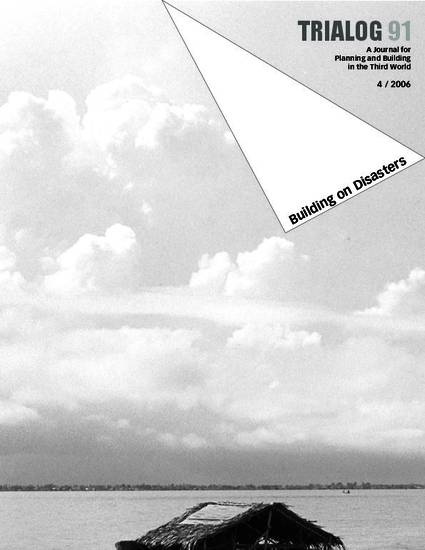 Article
Building on disasters
TRIALOG (2006)
Abstract
Disasters occur when a hazardous event strikes a vulnerable human settlement whose inhabitants have insufficient capacity to respond. Natural hazards include earthquakes, wind storms, landslides, wildfires, volcanic eruptions, droughts, tsunamis and flooding. The growing vulnerability of human settlements to natural hazards makes disasters more likely and more severe. The numbers confirm this trend: between 1975 and 2005 there was a five-fold increase in disasters, and over the past 10 years, approximately 2.6 billion people have been affected, compared with 1.6 billion during the previous decade.
In cities, disaster risk has increased as a result of (a) high population densities and the concentration of housing, infrastructure and services; (b) the expansion of communities into disaster-prone areas; (c) environmental deterioration; (d) the locating of residential land close to industrial or other dangerous sites; and (e) the large numbers of poor communities. These problems are compounded by a lack of capacity on the part of construction and planning agencies both to keep up with rapid urbanisation and to develop and enforce adequate standards and policies.
Around 85 percent of people exposed to disasters live in low- and middle-income nations; and within these countries, the poor and marginalised are the most affected. Poor households often have no choice but to live in precarious conditions. Currently, more than one billion people worldwide live in slums, a number that is expected to rise to over two billion in 2030. Solutions are thus urgently needed.
Citation Information
Christine Wamsler. "Building on disasters"
TRIALOG
Vol. 91 Iss. 4 (2006)
Available at: http://works.bepress.com/christine_wamsler/4/