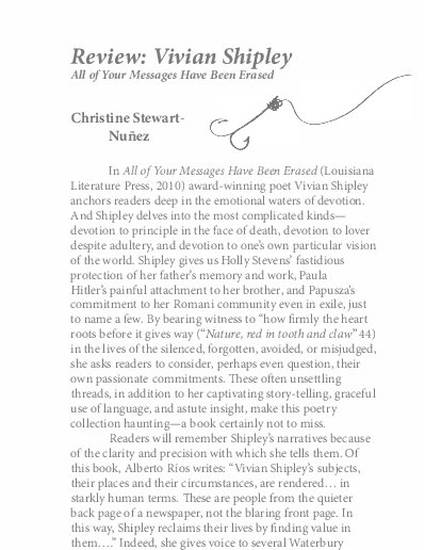 Other
Review: Vivian Shipley All of Your Messages Have Been Erased
Paddlefish
Document Type
Book Review
Publication Version
Version of Record
Publication Date
1-1-2011
Abstract
In All of Your Messages Have Been Erased (Louisiana Literature Press, 2010) award-winning poet Vivian Shipley anchors readers deep in the emotional waters of devotion. And Shipley delves into the most complicated kindsdevotion to principle in the face of death, devotion to lover despite adultery, and devotion to one's own particular vision of the world. Shipley gives us Holly Stevens' fastidious protection of her father's memory and work, Paula Hitler's painful attachment to her brother, and Papusza's commitment to her Romani community even in exile, just to name a few. By bearing witness to "how firmly the heart roots before it gives way ("Nature, red in tooth and claw" 44) in the lives of the silenced, forgotten, avoided, or misjudged, she asks readers to consider, perhaps even question, their own passionate commitments. These often unsettling threads, in addition to her captivating story-telling, graceful use of language, and astute insight, make this poetry collection haunting-a book certainly not to miss.
Publisher
Mount Marty College
Rights
Copyright © 2011 Paddlefish. Posted with permission.
Citation Information
Christine Stewart-Nunez. "Review: Vivian Shipley All of Your Messages Have Been Erased"
Paddlefish
Vol. 5 (2011) p. 167 - 170
Available at: http://works.bepress.com/christine-stewart-nunez/20/