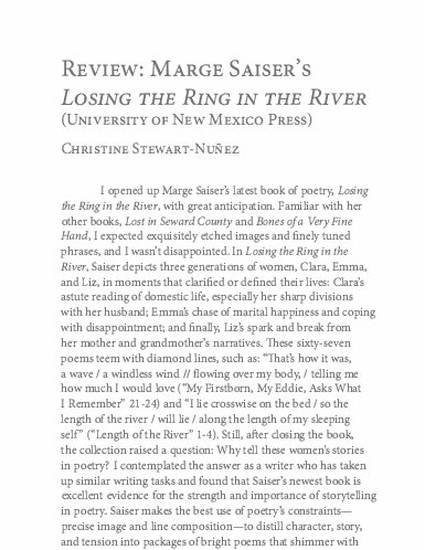 Other
Review: Marge Saiser's Losing the Ring in the River (University of New Mexico Press)
Paddlefish
Document Type
Book Review
Publication Version
Version of Record
Publication Date
1-1-2014
Abstract
I opened up Marge Saiser's latest book of poetry, Losing the Ring in the River, with great anticipation. Familiar with her other books, Lost in Seward County and Bones of a Very Fine Hand, I expected exquisitely etched images and finely tuned phrases, and I wasn't disappointed. In Losing the Ring in the River, Saiser depicts three generations of women, Clara, Emma, and Liz, in moments that clarified or defined their lives: Clara's astute reading of domestic life, especially her sharp divisions with her husband; Emma's chase of marital happiness and coping with disappointment; and finally, Liz's spark and break from her mother and grandmother's narratives. These sixty-seven poems teem with diamond lines, such as: "That's how it was, a wave I a windless wind // flowing over my body, I telling me how much I would love ("My Firstborn, My Eddie, Asks What I Remember" 21-24) and "I lie crosswise on the bed I so the length of the river I will lie I along the length of my sleeping self " ("Length of the River" 1-4). Still, after closing the book, the collection raised a question: Why tell these women's stories in poetry? I contemplated the answer as a writer who has taken up similar writing tasks and found that Saiser's newest book is excellent evidence for the strength and importance of storytelling in poetry. Saiser makes the best use of poetry's constraints -precise image and line composition-to distill character, story, and tension into packages of bright poems that shimmer with intensity.
Publisher
Mount Marty College
Rights
Copyright © 2013 Paddlefish. Posted with permission.
Citation Information
Christine Stewart-Nunez. "Review: Marge Saiser's Losing the Ring in the River (University of New Mexico Press)"
Paddlefish
Vol. 7 (2014) p. 125 - 127
Available at: http://works.bepress.com/christine-stewart-nunez/18/