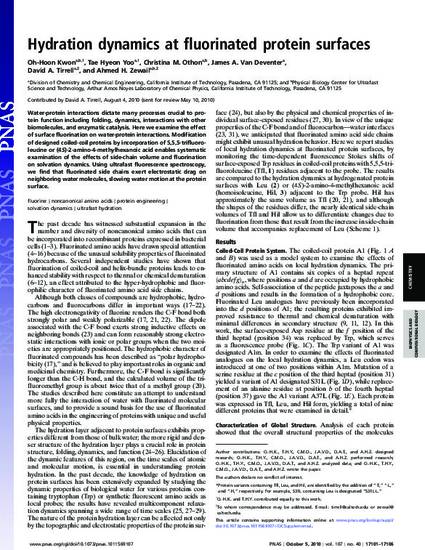 Article
Hydration dynamics at fluorinated protein surfaces
Proceedings of the National Academy of Sciences (2010)
Abstract
Water-protein interactions dictate many processes crucial to protein function including folding, dynamics, interactions with other biomolecules, and enzymatic catalysis. Here we examine the effect of surface fluorination on water-protein interactions. Modification of designed coiled-coil proteins by incorporation of 5,5,5-trifluoroleucine or (4S)-2-amino-4-methylhexanoic acid enables systematic examination of the effects of side-chain volume and fluorination on solvation dynamics. Using ultrafast fluorescence spectroscopy, we find that fluorinated side chains exert electrostatic drag on neighboring water molecules, slowing water motion at the protein surface.
Publication Date
Fall August 4, 2010
Citation Information
Oh-Hoon Kwon, Tae Hyeon Yoo, Christina M Othon, James A Van Deventer, et al.. "Hydration dynamics at fluorinated protein surfaces"
Proceedings of the National Academy of Sciences
Vol. 107 Iss. 40 (2010)
Available at: http://works.bepress.com/christina_othon/5/