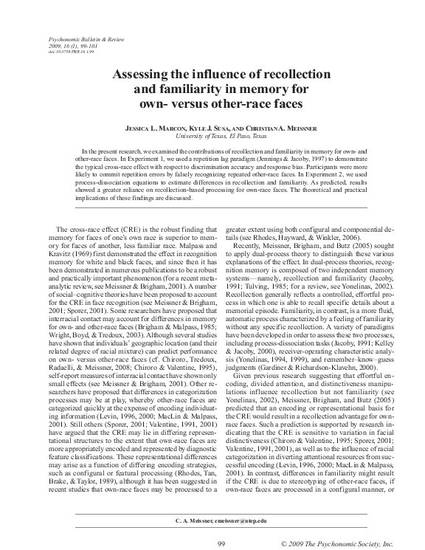 Article
Assessing the influence of recollection and familiarity in memory for own- vs. other-race faces
Psychonomic Bulletin & Review (2009)
Abstract
The current research examined the contributions of recollection vs. familiarity in memory for own- and other-race faces. Experiment 1 used a repetition lag paradigm (Jennings & Jacoby, 1997) to demonstrate the typical cross-race effect with respect to discrimination accuracy and response bias. Participants were also more likely to commit the 'repetition error' by falsely recognizing repeated other-race faces. Experiment 2 used process-dissociation equations to estimate differences in recollection and familiarity. As predicted, results showed a greater reliance on recollection-based processing for own-race faces. The theoretical and practical implications of these finding are discussed.
Citation Information
Jessica L Marcon, Kyle J Susa and Christian A Meissner. "Assessing the influence of recollection and familiarity in memory for own- vs. other-race faces"
Psychonomic Bulletin & Review
Vol. 16 Iss. 1 (2009)
Available at: http://works.bepress.com/christian_meissner/45/