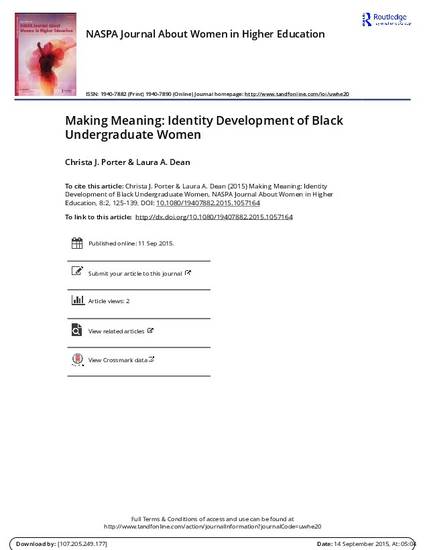 Article
Making Meaning: Identity Development of Black Undergraduate Women
NASPA Journal About Women in Higher Education (2015)
Abstract
The purpose of this preliminary, phenomenological study was to identify factors that influence identity development and meaning-making of Black undergraduate women at a predominately White institution. The goal of this research was two-fold: to share diverse experiences of Black undergraduate women in order to understand the essence of their lived experience and to identify contemporary perspectives of the duality of being both Black and a woman at a predominately White institution. Findings were clustered into themes pertaining to support systems, maternal and familial influences, articulation of Black identity, and interactions with other Black undergraduate women.
DOI
10.1080/19407882.2015.1057164
Citation Information
Porter, C. J., & Dean, L. A. (2015). Making meaning: Identity development of Black undergraduate women. NASPA Journal about Women in Higher Education, 8(2), 125-139.